SDSU men's soccer more mature heading into 2015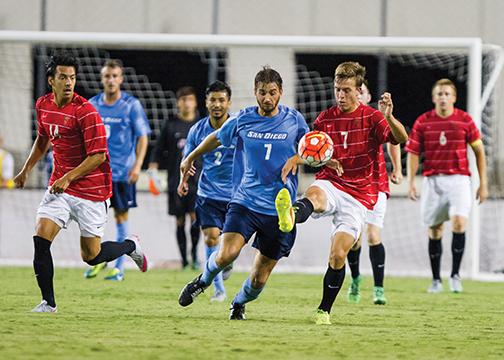 Plant a seed in soil, give it water and sunlight and it turns into a sapling.
Eventually, the sapling turns into a tree. If the tree's properly cared for, it might bear fruit.
But to care for the tree over time, dead branches must be pruned and trimmed.
In the case of San Diego State men's soccer, the dead limbs have been cut and discarded in the offseason.
Ten underclassmen left the team, including the young players who were responsible for much of last year's early success. 
Four of the team's talented freshmen, including leading scorer David Olsen, left. Three sophomores, including Forrayah Bass, who had three goals and four assists, also left.
Head coach Lev Kirshner is eyeing a return to relevance in the grueling Pac-12 this season, a year after his Aztecs lost 12 games, 10 of them by just one goal. This came after starting off the year with wins over two top-25 teams.
Why did all those players leave SDSU?
There was an apparent need to trim SDSU's dead branches in the offseason. But why after all the early success and promise despite the 7-12-0 record?
"We didn't have the right type of players in that group," Kirshner said.
He added that a lot of those players didn't buy into the team's culture and values. Redshirt-sophomore defender Julio Alarcon delivered perhaps the most damning indictment about the group when talking about the team's turnover rate from last year to this year.
"This year we have more transfers than freshmen, so they're older, more focused on soccer than distractions in San Diego, which makes us a better team," Alarcon said.
It's not clear if the players were dismissed or if they left on their own terms. Kirshner gave no comment as to whether either was the case.
A new year brings a new recruiting class
Kirshner reloaded with an athletic and smart recruiting class that can help in key situations this year.
"We've got a lot of depth to this team; last year's team didn't have great depth," Kirshner said.
Some of the new players have represented their country in the youth levels. Freshman defender Kyle Adams is in the Under-20 New Zealand national team selection pool and sophomore midfielder Simon Said was on Sweden's Under-16 national team.
Freshman Pablo Pelaez, who has been in the U.S. national team system starting at the Under-16 level, won't play this season as he sorts out eligibility issues.
Three more recruits are transfers from other colleges. Two of them are from Brigham Young University: redshirt-sophomore forward Winston Sorhaitz and redshirt-sophomore midfielder Dallin Cutler.
Neither impressed during the Aug. 20 friendly against University of San Diego. One player who did impress was redshirt freshman midfielder Greg Norris, who joined the team in the spring and was one of the many players Kirshner said had a great camp.
Dutch sophomore forward Jeroen Meefout also showed promise up top at the friendly, but his teammates rarely gave him much help.
Another year in the Pac-12 gauntlet
The recruiting class is bound to help Kirshner at some point, but he won't have long to figure it out as the Pac-12 beckons yet again.
The Pac-12 had the No. 1 RPI  of any conference in the country last year and had the toughest strength of schedule.
Five of its six teams consistently ranked in the top-25, including UCLA and University of Washington, which both had stints as No. 1 in the country.
UCLA went to the national championship game and lost to University of Virginia in a penalty shootout.
For SDSU, the story was the same throughout 2014.
Ten losses were by just one goal, with three of those losses resulting from goals conceded after the 80th minute against UC Berkeley and Washington.
Two more losses came in overtime against Florida International University and Stanford University. Redshirt-junior defender Travis Nicklaw spoke of his team's goals for 2015.
"Making sure we're all on the same page, unlike last year," Nicklaw said.
The Aztecs will undoubtedly have to be cohesive if they wish to compete against the likes of Washington, who had two players taken in the MLS Draft by the Seattle Sounders.
One of them, midfielder Christian Roldan, has been a regular starter for the Sounders since.
What does 2015 hold for SDSU soccer?
This year's slate features a couple of tough non-conference foes. UC Irvine finished ranked No. 20 in the nation last year. UNLV won the Western Athletic Conference regular-season and tournament titles last year.
Both also made the 2014 NCAA tournament.
If the non-conference schedule doesn't feature enough tough tests for Kirshner's group, the other five teams in the Pac-12 also made the tournament.
For SDSU, high-quality players like Eric Wynalda, Joe Corona and Steven Beithasour haven't come to the Mesa in a while. But even with those kinds of players, it's difficult to match up against the rest of the Pac-12 when teams like UCLA and Washington regularly churn out MLS quality players.
As Nicklaw put it, the Aztecs have to find their process of winning.