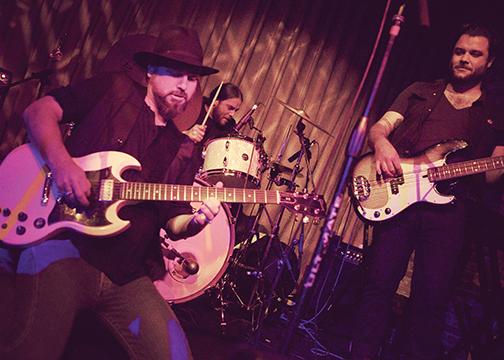 Not many bands leave lasting musical impressions, but the Nervous Wreckords are among the few that do. With its lead singer's one-of-a-kind voice, tongue-in-cheek lyrics and an undeniable musical talent, San Diego's Nervous Wreckords are hard to forget.
Brian Karscig, the Nervous Wreckords' lead singer and guitarist, is a songwriter, musician and producer who's been at the forefront of San Diego's music scene for years. Karscig got his big start when he landed a record deal a month after graduating from San Diego State back in 2000 with a bachelor's degree in psychology.
"I went on the road touring for about five years," Karscig said. "That band was called Convoy and it started during my years at State."
Convoy may have broken up prematurely, but Karscig and a few other members went on to find almost-overnight fame with their new band, Louis XIV.
"We were lucky enough to get another record deal with Atlantic (Records), and that changed our lives," Karscig said. "We all went from not being that cool in high school to all of a sudden being cool, on a bus, (having) money and (having) people lining up to see us."
After finding success with songs, such as "Finding Out True Love is Blind," and touring around the world, Louis XIV's members decided to take a break in 2009.
Karscig then went on to focus on his own musical endeavors, which led to his brainchild, the Nervous Wreckords. He collaborated with Anthony Saffery of the Britain-based band Cornershop before his last tour with Louis XIV to mix some songs he'd recorded at his San Diego home.
Although Karscig never thought the Nervous Wreckords would produce anything more than a single record, his longtime friends in the popular indie-rock group The Killers gave him a jaw-dropping opportunity when the Nervous Wreckords' album "Valuminium" was released.
"Brandon (Flowers) called me up and was like, 'You have a band for this right? You want to come open up our Day and Age Tour?'"
The Nervous Wreckords have steadily progressed since their first tour opening up for The Killers. To date, the band has put out its "Nailbiter" extended play, as well as two full-length albums, "Valuminium" and "Let Them All Talk." They have also toured alongside popular bands, such as Wavves and Weezer.
Karscig is excited to release new music in the near future. While it is still unnamed, the Nervous Wreckords will be releasing a new album in two parts. Part one will come out in September 2015 and part two will come out in early 2016.
The Nervous Wreckords has constantly transformed through the years, as many of its members are involved in other bands. Instead of waiting for his band to come together to work on material for the new album, Karscig has worked endlessly at his home studio on his new music to release independently to the band's eager fans.
Karscig has worked closely with many different musicians, including the drummer of the band TV on the Radio, Jake Najor, and members of The Killers.
Karscig is focused on making the new record all about the music and said it was written entirely while it was recorded. He said it includes songs that are introspective and others that are downright rock 'n' roll.
"It's fun to try and figure out your own songs and I've been having the most fun with that," Karscig said.
Tim Pyles, host of 91X FM Radio's award-winning show "Loudspeaker," eagerly anticipates new material from Karscig.
"I've loved all his bands from Convoy and Louis XIV to the Nervous Wreckords. The dude is prolific," Pyles said. "(He is) one of the true artists in San Diego and we are lucky to have him."
Along with the new record, Karscig plans to tour a bit with the Nervous Wreckords. Karscig said he feels at home in clubs like The Casbah, but is also pumped to play the upcoming KAABOO festival on Saturday, Sept. 19 at the Del Mar Fairgrounds. Karscig is especially eager because the Nervous Wreckords will be premiering all of its new songs.
The Nervous Wreckords are also nominated for a San Diego Music Award under the "Best Rock" category. Although the band won't perform at this year's award ceremony in October, Karscig looks forward to playing with his other band Louis XIV, which will be reuniting with all the original members for the first time since the band's dissolution in 2009.
Karscig said he will always make music, whether it's with the Nervous Wreckords, with other artists or working on his own.
"I don't really know what'd I do if I didn't have music," Karscig said. "It's just what I do."
Editor's Note: This story has been updated to reflect the upcoming release of the Nervous Wreckords' new album.