Punk band X plays with open mind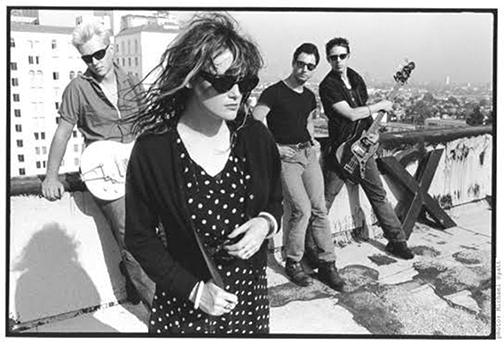 Not many bands have the ability to stay with their original lineup and sustain momentum, yet pioneers of the first wave American punk movement, X, have done just that for four decades.
They are set to perform at the Del Mar KAABOO festival in September. The band will take part in its second festival without guitarist Billy Zoom after his cancer diagnosis. This marks X's first San Diego show since its sold-out concert in 2014 to celebrate the Casbah's 25th anniversary.
X started with two people, being founded in Los Angeles by bassist and vocalist John Doe and guitarist Billy Zoom in 1977. Later that year, Exene Cervenka was asked to join as lead singer and DJ Bonebrake as drummer.
In its formative years, the band toyed with a myriad of genres, incorporating blues, rockabilly and country into its punk aesthetic. While the band rose to fame at the same time as other Southern California legends, such as Germs and Agent Orange, X set itself apart with its drive for an eclectic musical style.
A lot of the band's appeal came from its group dynamic. It wasn't traditional punk, with the anger and whiny lyrics. It was punk with sophistication, exposing emotions that reflected on love and life.
"Her harmonies with Doe were always incredible, and their back-and-forth interplay on stage was just like nothing we'd ever seen before," Rolling Stone managing editor Jason Fine said.
Few females at the time were part of the punk scene, however Cervenka defied gender norms and demanded attention on stage with her powerful presence and silky vocal harmonies.
"Exene was and is a force of nature," Fine said. "She was never just the singer, never just a girl fronting a band. She was the core of the band."
The group rose to prominence in the early 1980s with its first two albums "Los Angeles" and "Wild Gift."
Both albums later landed its way on Rolling Stone's "500 Greatest Albums of All Time" in 2003.
Although the band took a short break in the 1990s, X toured throughout the decade to perform its classics for crowds big and small.
Currently, the band continues to play small-scale venues, as well as festivals, even after four decades of playing music.
This July, guitarist Billy Zoom was diagnosed with bladder cancer and had to cancel all future appearances to undergo chemotherapy. Cervenka said Zoom's prognosis fortunately appeared positive, and he plans to return to play shows by December at the latest.
They soon found a temporary replacement, Jesse Dayton, guitarist of Waylon Jennings and Supersuckers.
He has been the band's stand-in guitarist since late July.
"What I like is that Jesse is his own person," Cervenka said. "He doesn't imitate Billy, but plays punk in the way he knows."
As frontrunners of a flourishing scene in Los Angeles, X expanded the culture of punk rather than sticking to the typical narrative of aggressive and often violent music dominating the genre. The band's music continues to transcend to the masses, inspiring a more open-minded scene.
At a festival with acts like No Doubt and 311, it's surprising to see a band like X on the bill. At the same time, it's not. These legends are helping kick-start this festival in the place that first welcomed their music, Southern California.