SDSU crime and incident report: Suspicious people, drunks in public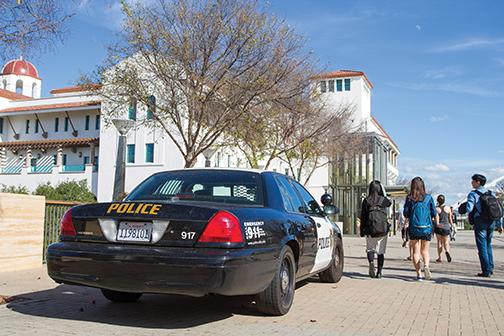 Suspicious people
San Diego State police responded to calls of a suspicious person inside the Cuicicalli dorms late Friday afternoon. He was reported to the police after loitering near the Tepeyac building. The man had dark skin and long hair in a ponytail, witnesses who reported him said.
He was not a student and it was not known if he was invited into the dorms.
Later that evening, another suspicious person was reported near Aztec Circle Drive. The woman was described as a 40-year-old adult wearing an oversized gray shirt, jeans and no shoes, according to SDSU police.
The police could not find her after they arrived.
Welfare check
A woman was reportedly screaming in distress at the Alpha Gamma Omega fraternity on Friday evening, Sept. 25, according to police. A parking officer was notified and arrived first. A police report was filed, but no arrest was made. 
Public intoxication
An SDSU student was arrested on Sept. 25 by the Olmeca Residence Hall for public intoxication. The incident occurred shortly after 4 p.m., according to SDSU police.
Two people were arrested at Cal Coast Credit Union Open Air Theater later that night for public intoxication. Neither person was an SDSU student, and the two arrests were unrelated.
Check back with The Daily Aztec as we update you with the latest news in campus crime later this week.