Greek life expands on campus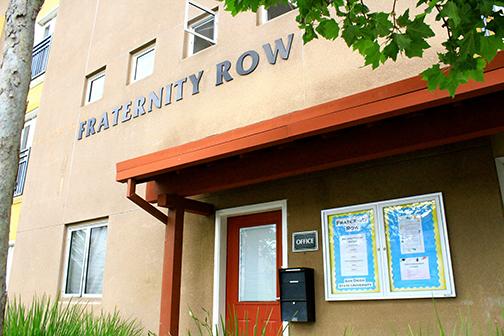 More than 1,000 sorority recruitment hopefuls gathered at the Conrad Prebys Aztec Student Union this month, awaiting assignment or rejection from the Greek community.
With Greek life's increasing popularity on San Diego State's campus, the number of participants in sorority recruitment soared to its highest rate while the amount of fraternity recruits remained static in comparison to previous years.  
Through the bidding process, each of the eight sororities accepted approximately 85 new members to its chapter totaling a class of 680 new female sorority recruits.  
San Diego State's College Panhellenic Association collected over $64,000 this fall through participant registration dues. Early registration fees for participants were $60 and those who registered after August 23 paid $90 for a spot in the formal rush process.  
"All registration fees go toward the process," CPA Recruitment Director Hanna Gifford said. "We gave out meals the first day of rush and use it to make space and room reservations."  
Funds stay within CPA and are not distributed to each sorority, Gifford said.  
CPA Finance Director Kristen St.Angelo was not available for comment regarding the distribution of funds of registration dues when The Daily Aztec asked for an interview.
The formal sorority rush information session opened with a disclaimer to potential recruits about considering other opportunities to get involved on campus outside of Greek life.  
"We do that so girls have an open mind," Gifford said. "San Diego State is not just about Greek life. We want to portray that it's not just about Greek life for the participants so we have more of a sense of community."
The formal sorority recruitment process includes four days of required meetings with a current member of Greek Life, house tours, and a final bid day where remaining participants either do or do not receive a formal bid into a chapter. Participants are dropped from the process if they do not attend an event they are invited back to by a sorority chapter.
"We use the formal rush process to keep it organized and so girls keep their options open when making their decision," Gifford said. "This year we had a higher retention rate than last."
San Diego State's Inter-Fraternity Council (IFC) does not require a registration fee from participants during the recruitment process, but does require a $350 recruitment fee from each of the 13 fraternity chapters on campus.  
IFC Recruitment Vice President Marcus Cowan said the money covers the cost of catering IFC Banquet, canopies and room reservations.
IFC received between 500 and 600 potential recruit applications that had completed the Pre-Recruitment Education Program (PREP) online. SDSU's 13 chapters extended almost 500 bids to new fraternity members on last Friday's formal bid night.   
While the council does hold a formal IFC banquet and bid day for the initiation process, it uses an informal rush process where recruits have the option of attending various fraternity-hosted events.
"It is informal in the sense that we don't have certain times for certain places," Cowan said. "We have certain time spans, for example from five to nine, so recruits can get a feel for each chapter."  
Fraternity informal recruitment events range from "Wing Wednesday," hosted by Delta Upsilon to "Dodgeball at the Arc" with Phi Kappa Psi. Potential recruits attend events of their choosing during the times designated by the Inter-Fraternity Council and each fraternity chapter.
"All chapters have the freedom to do what they want to," Cowan said. "It can range from football games to alumni nights to dunk contests. I give the initial approval for the events and Jordan and Caryl also approve them."  
At SDSU, Jordan Lewton is the student life advisor for Fraternity and Sorority Life, while Caryl Montero-Adams is the assistant director of life and leadership of Greek Life.
"It's more comfortable and not as forced," Cowan said. "When you come to an IFC event, and you're a freshman you want to get that comfortable vibe starting out at San Diego State."
CPA does hold an informal process for interested recruits after the formal rush called Continuous Open Bidding.  
"We have an informal Continuous Open Bidder's list," Gifford said. "Anyone can do it after they complete the PREP, and there is no fee. Only some chapters do it, and it ranges every year."
IFC does not have a similar process and closes recruitment until the spring semester, Cowan said.
"We don't have an informal bidding process after the rush season," Cowan said. "If we do, it is a special situation-based scenario to recruit members after the final bid day."