Rain cancels day three of SDSU Fall Classic after Aztec women's tennis dominates first two days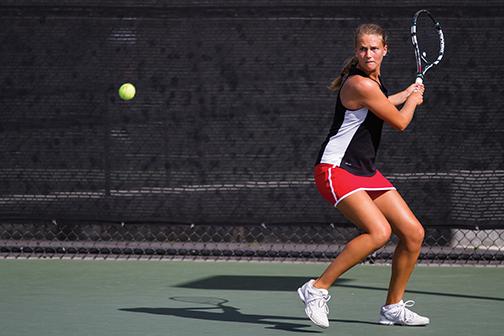 The slight rain San Diego County saw this weekend did have one effect other than making San Diegans think "apocalypse." The third and final day of the SDSU Fall Classic I women's tennis tournament was canceled due to the rare weather phenomenon.
But not before the San Diego State women's tennis team grabbed 13 wins in the first two days.
Friday kicked off the tournament with the Aztecs taking two of the four doubles matches. Senior Tami Nguyen and sophomore Jana Buth won their set 6-1 against University of Denver. Juniors Olivia Larsson and Isabella Hoorn took their set 6-2 over UC Irvine.
Sophomore Paola Diaz and senior Dora Somoracz played a tough set, but could not hold on as they fell to Loyola Marymount 6-4. Junior transfer Taylor Lederman and junior Kennedy Davis could not find their rhythm, as they wound up losing 6-2 to Grand Canyon University.
After the early morning doubles, the Aztecs went to play in their respective brackets for singles — where they made their mark on the tournament.
The projected No. 1 for SDSU, Nguyen, had a difficult first-round match in the Red Draw. After Nguyen won the first set 6-3, her opponent, LMU sophomore Anna Romeka, provided a mixture of shots and kept Nguyen on her heels throughout the second set.
Romeka won the second set 6-4, but she tweaked her back. Nguyen then took advantage, winning the final set 6-1.
Davis, also in the Red Draw, played a tough three-set match against GCU junior Tatum Prudhomme, and outlasted her in the third to win the match 6-2, 4-6, 6-3.
The Black Draw featured the quickest matches of the day with Diaz and Lederman. Diaz dominated senior Evy Van Genechten from Denver, winning 6-1, 6-1. Unfortunately for Lederman, it was a different story. She again struggled to find any sort of rhythm on the court and fell 6-2, 6-2 to senior Andrea Crespo of LMU.
The second day was almost as successful as the first. The team took six matches on Saturday, again being led by Nguyen, who set the tone early. Nguyen and Buth took their doubles set 6-4, followed by Davis and Lederman winning their set 6-3.
In the Red Draw, Nguyen and Davis won their singles matches in straight sets, setting up a potential finals matchup between the two.
Lederman, in the Black Draw, built off her morning win with Davis and won her first singles match in an Aztec uniform 6-4, 6-4. Her teammate Diaz played the first of three Aztec tiebreakers on the day in her first set, but she lost 10-8. Her struggle with her serve and drop shot was costly and she lost 6-3 in the second set.
Larsson and Hoorn had the two most entertaining matches of the second day. Both played brilliant three-setters, but would falter as their mental game could not hold up. Both played intense three-setters on Friday and Saturday.
"Today, I thought, was a step forward from yesterday, which you always like to see," head coach Peter Matera said. "… Plus, I pointed out to them before they left today (that) their fitness is really at an improved level."
Fitness was the main improvement wanted from Matera. The team now does strength and conditioning five days a week, compared to three last season.
"Yeah, I haven't felt tired," Larsson said. "I played a three-setter yesterday and I played a three-setter today and I haven't really felt tired."
Although the coaches and players were excited to see the improvement and fitness on the third day, it was unfortunately cancelled due to rain.
The Aztecs' next tournament is the ITA Regional in Point Loma starting on Oct. 15.