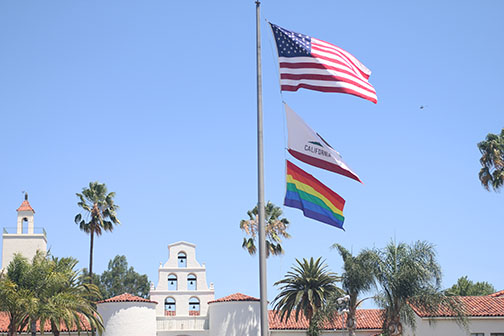 "Orange is the New Black" star and LGBTQ activist Lea DeLaria will speak to San Diego State students Monday night in Montezuma Hall.
"DeLaria's talk is a great segway in honor for coming out day (Oct. 11, 2015) and as a general opening for students to become more communicative and open about the diversity in our community," said Sophie Rogers, SDSU sophomore and special events vice chair of the Aztec Student Union Board.
The ASUB, along with SDSU's Center for Intercultural Relations, The Pride Center and the Women's Resource Center were involved in planning the speaking engagement.
SDSU sophomore and ASUB Special Events Chair David San Juan said the event is about embracing the diversity found on SDSU's campus.
"SDSU is so diverse and we need to continue on the path of inclusiveness," San Juan said. "DeLaria will bring a positive perspective on diversity and will be able to utilize her humor in order to lighten the mood on a tough topic."
SDSU students have shown broad support for the event. In two days all 900 tickets were sold.
"I am expecting to have a great time learning about DeLaria's comedy and perspective on real issues at the event," SDSU kinesiology sophomore Michelle Castillo said.
Some students are excited about hearing from a person who serves as a strong role model for many in the LGBTQ community.
"I'm a big fan of OITNB, and all of the strong females portrayed on the show, and I think Lea DeLaria's character is especially impactful in her fight to always be true to herself," SDSU graphic design sophomore Ava Wetjen said.
Doors open at 7:00 pm at Montezuma Hall in the Conrad Prebys Aztec Student Union.
SDSU students who do not have tickets will be allowed to enter at 7:30 pm if seats are available. 
"I hope students walk away from the event feeling happy, loved, and accepted," San Juan said.