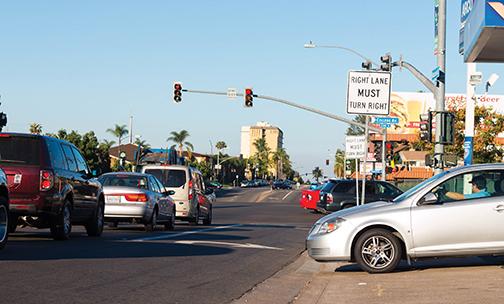 In an effort to crack down on "mini-dorms" San Diego revised its definition of a rooming house in September.
Mini-dorms, or houses that are rented to multiple tenants, have long been an issue in College Area.
In 2008, the city launched a rooming house ordinance and a residential high occupancy ordinance to limit the increasing amount of mini-dorms.
Previously, conflicting definitions of a rooming house made laws difficult to enforce.
Since it was changed on Sept. 16, the new rooming house is defined as, "A dwelling unit where three or more rooms, excluding kitchens and bathrooms, are rented to three or more individuals under three or more separate rental agreements or leases."
The rooming house ordinance also includes stipulations of noise violation fines up to $1,000 per resident of a rooming house.
The residential high occupancy ordinance requires owners to get a permit for single dwelling units inhabited by six or more persons 18 years of age. The permit also requires the owner to provide adequate parking.
Mini-dorms are controversial because some owners rent out residential homes to as many as a dozen students. This causes problems in residential areas, finance lecturer Mark Goldman said.
"You have, let's say, a three-bedroom house with six people living in it, and each one of them has a car, and a lot of times younger people who are occupying space may tend to be a little more party-oriented than, say, an ordinary family," Goldman said. "They do have the opportunity to destabilize a residential neighborhood."
International Security and Conflict Resolution senior Matt Weed lives in a mini-dorm in College Area.
"People living in the College Area should probably understand that they're living in a college area, so people are going to be having parties," he said.
Mini-dorms can also lower the property value of residential homes in the area.
"A lot of the times rentals, especially rentals to students, are not maintained as well as an owner occupant might, so that may cause some deterioration (to property value)," Goldman said
Mini-dorms are particularly popular in the San Diego State area. There are 813 mini-dorms in College Area, according to The San Diego Union-Tribune, with 135 constructed in the last three years.
Safety of the house, poor management and relationships with other renters are some of the problems for students living in mini-dorms, said Xudong An, a finance and real estate professor.
"(It's) better to stay in university dorms or managed apartments, but affordability is an issue," An said.
Mini-dorms are often the cheapest housing available in the College Area, with a single room usually costing around $500 to $600. Other student apartments in the area cost between $900 and $1,200 for a single bedroom.
Weed pays $500 a month for a single bedroom in an off-campus house with several other roommates. The rent is about $400 cheaper than his first apartment, he said.
"You're paying less for more," he said.
On-campus housing is limited to mostly freshmen, and rates include a required meal plan for those first-year students.
With the cheapest meal plan option, students pay about $1,500 a month to live in a residence hall. An upper-division apartment single for nine months costs about $1,075 per month.
Goldman believes there must be a trade off between maintaining and protecting property value, but also having reasonably priced housing opportunities for students
"At the end of the day, if the demand for student rental housing is so much greater than the demand for owner-occupied or family housing, for lack of a better comparative term, the market is going to sway that way," he said.