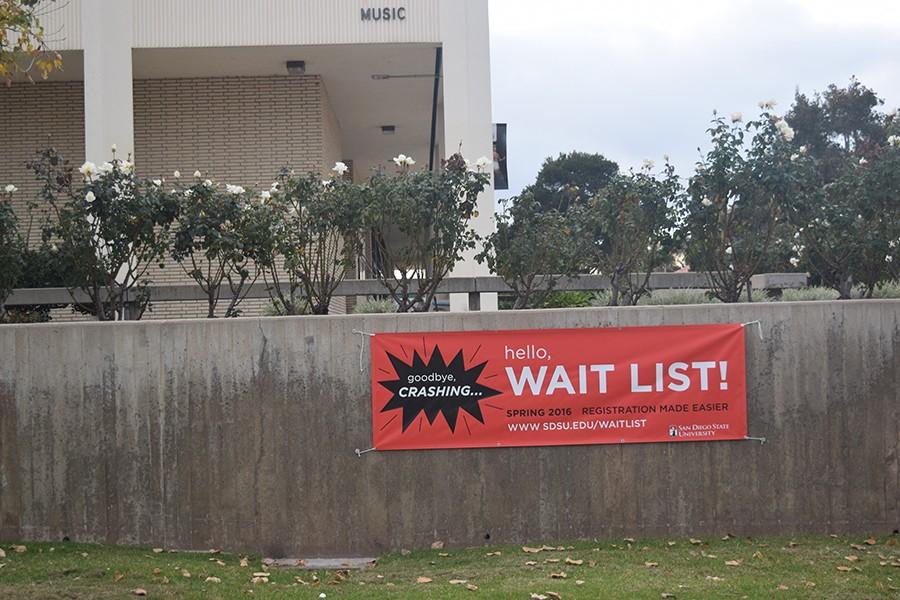 San Diego State implemented a new waitlist feature that will say "goodbye to crashing" forever.
Associated Students requested and initiated this automatic enrollment application in 2012, which allows students to put themselves on a waitlist when a class is full.
As a seat in the class becomes available, the system automatically enrolls them into the class according to their ranking on the list.
Ranking is determined by various factors, such as the student's units earned, major/minor and if he or she has met the necessary prerequisites for the class.
A student's ranking can change every day according to how many students drop the class, add themselves to the waitlist or if there are any seats added to it.
This new system is beneficial for both students and faculty because it is a uniform non-biased way to allow students in a class without requiring them to crash it.
In the old registration process classes would only be opened from the first to last day of registration. Then classes would open up again on the first day of class but would require an add code.
Students were unable to add a class to their schedule even if there were available seats after the last registration day.
In the new system classes never close, and students are automatically enrolled in a class if there are available seats until the fifth day of class.
Starting on the sixth day of classes, faculty will manually add the students to the class even if there are open seats.
"The old process for acquiring those add codes was not a process that was standardized across the campus, every faculty did it their own way," Registrar Rayanne Williams said. "Some faculty were fair, some were not."
Having a waitlist creates not only a standardized process for students to auto-enroll in a class, but it also shows teachers how many students want or need to take their class, Williams said.
Vice President of University Affairs Andrea Byrd said this new system has the potential to help faculty add more classes for students.
"With the waitlist being an online system, Enrollment Services can see exactly how impacted some of these classes are, and open up more course sections if need be," Byrd said.
The waitlist has some restrictions. Students can have a maximum of four course sections on their waitlist. Additionally, a course can be added to the waitlist if it conflicts with a class on a student's schedule, but the student must agree to drop the conflicting course if he or she get their desired waitlist class.
Theatre, film and new media junior Constantine Samios experienced some difficulties with the waitlist. He added a class to his waitlist and got dropped from it twice.
Once he called the Office of the Registrar, they told him it was a technical glitch. When he added the class again, his ranking changed drastically.
Theatre, film and new media senior Daniel Galuppo had a good experience with the waitlist. He was auto-enrolled in a class after being third on the waitlist, but he still said the new system isn't all that good.
"The whole point of crashing was that if you were the first one to make it to the class or talk to the professor you could get the add code," Galuppo said. "This creates a competitive environment which is healthy, but if you are No. 30 on a waitlist your, chances of getting that class are much lower."
For more information about the waitlist visit www.sdsu.edu/waitlist.