SDSU athletes primed for breakout seasons this spring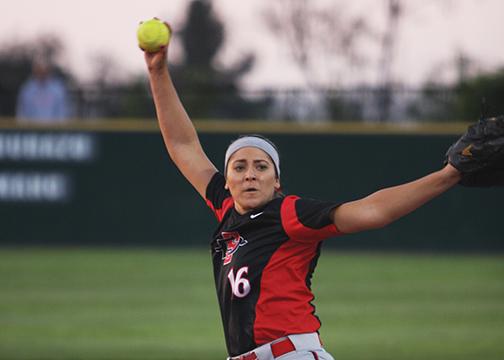 Softball, junior pitcher Erica Romero
Sydney Olmstead, Staff Writer
The San Diego State softball team found itself in a bind last season when they ended up with a limited pitching rotation due to injuries and other circumstances. Junior Erica Romero not only stepped up to the challenge of taking the mound game-after-game, she ended up leading the country in wins (36).
On Sept. 23, 2015, Romero received the NCAA plaque for "Most Wins in '15", making her just the second Aztec in program history to lead the NCAA in a statistical category. She finished the season with a 36-17 record and a 3.29 ERA over almost 319 innings. She was named Mountain West Pitcher of the Week four times and appeared in 56 of the team's 58 games. Though the season was rough on her, Romero believes it shaped her in a positive way.
"Knowing what I did last year and taking that into consideration when things get tough will help me this season," she said. "Even if I don't beat my own record, I know what I'm capable of doing."
Romero is also thankful to have more pitchers ready to go on the team this season because it will give the Aztecs an advantage over teams that have faced Romero many times.
"I'm excited that we have more pitchers because the teams that we've played know me like the back of their hand now," she said. "There's so much film of me out there I could make a movie."
Head coach Kathy Van Wyk anticipates a well-rounded pitching rotation this season, but is also confident in Romero and her experience on the mound.
"In conference we play the same team three days in a row," she said. "And that team is seeing the same pitcher three days in a row. That's tough. Having a cycle will be nice, especially knowing you still have your star to bring in and shut them down."
The Aztecs kick off the season on Feb. 12 against Canisius College and will have their first home game on Feb. 18 against Kentucky.
Lacrosse, junior midfielder Vickie Porter
Anthony Reclusado, Assistant Sports Editor 
San Diego State lacrosse posted its first winning regular season, 9-8, and sent out its seniors on a high note.
However, with the changing of the guard comes the loss of production on the offensive end.
The team lost five of its top ten goal scorers, whom accounted for 101 of their 199 goals, and their top-two assist leaders that tallied 43 of the team's 84 assists.
That is where junior midfielder Vickie Porter steps in, who finished last season third in shots (42) and tied third in goals (20) for the Aztecs.
Coming off the bench in 16 of SDSU's 17 games, Porter was a "super-sub" for the Aztecs as she scored in 12 of those 16 matches off the pine, including six multi-goal games.
Nevertheless, production is only part of the shoes that Porter aims to fill with the previous senior class graduating.
"I think I need to be more of a vocal leader for everyone on the team," Porter said. "We are like a new team this year, so I am really excited to play with them. But I definitely need to step up a bit." In only the program's fourth season classified as a Division I sport, the 2015 San Diego
That excitement and yearning to grow into a leader by Porter stems from the fact that SDSU brought in a highly touted 12-person freshman recruiting class.
Despite being flooded with youth that has no stopped Porter from setting lofty goals for her team.
"I want to win a championship," she said. "We've had time to build and I feel like this is the year for our team to shine."
Porter and the SDSU lacrosse team will open the season on Feb. 12 when they travel to North Carolina to take on Elon University.
Men's Tennis, junior Hendrik Jebens 
Austin Gayle, Contributor 
At 6-foot-5, 190 pounds, his sheer stature can often cause the SDSU student body to mistake him for an accomplished shooting guard or star wide receiver, but junior Hendrik Jebens has instead found a great deal of success on the tennis court.
Jebens initially experimented with the sport of tennis at 4 years old in his hometown of Stuttgart, Germany, but surprisingly enough he put down the racquet to pursue his stronger interest in field hockey. Eventually, an injury pushed Jebens to pick up a tennis racquet yet again at 7 years old, and he hasn't looked back since. He soon formed a close relationship with a coach in Germany that would ultimately become his primary motivation to continue to pursue the sport of tennis. Jebens benefited from the consistent coaching, as his childhood coach remained with him from 8 years old up until he left for the United States at 18.
"He kept me really interested in the sport, and I never really felt any pressure from anybody," Jebens said in regards to his former coach. "I was playing for fun and just got better over time."
Coming off easily his best season at SDSU, Jebens, 20, is now entering his third year with the San Diego State men's tennis team. In 2015, Jebens was selected to both the All-Mountain West singles and doubles team, as he posted a 22-5 record in singles and a 19-6 record when paired with Co-Mountain West Player of the Year Freddy Gelbrich.
Of Jebens' 22 wins, he was undefeated against nationally ranked opponents: No. 67 Karue Sell, No. 72 Filip Vittek and No. 82 Samir Iftikhar.
Given his recent rise to stardom, the idea of pursuing a career in tennis beyond the college level has become relatively tangible. However, Jebens seems to fully understand that he must continue to take advantage of his remaining years here at SDSU by continuing to build on prior success.
Swimming and Diving, junior diver Alexandra Caplan
Joseph Faria, Staff Writer
San Diego State sophomore Alexandra Caplan has been the rock for the women's dive team this season. In just her second year at SDSU, she's already turning heads.
Last November, she finished in the top five at the Wildcat Diving Invitational at the University of Arizona. This is something that an Aztec diver has not accomplished in quite some time.
In the team's final home meet of the season against University of San Diego on Jan. 2, Caplan left her mark on Aquaplex history. She broke a pool and school record for the one-meter dive with a score of 323.78 points.
"I just felt relaxed because I'm at my home pool," Caplan said. "It's good to not be traveling and stay in my own, normal routine."
And Caplan remained relaxed throughout the meet against crosstown rival USD. She finished in first place in both the one-meter and three-meter dives.
Caplan stressed that staying relaxed has been the difference from year one to year two with the diving team. It is something she prides herself on.
"I work on the little things to improve my game," she said. "I have to really focus because there are some very good divers out there."
Caplan enters more high-stake competitions as the season winds down, but she isn't afraid of being in the spotlight.
"I try to have fun with it," she said.
Caplan will continue to push all the way into March for the Zone Diving Meet in Flagstaff, Arizona, and the NCAA Championships in Atlanta, Georgia.
"Everything I do in preparation for these meets is for Zones," Caplan said. "I want to get to the NCAA (Championships) and then just have fun and dive."
Baseball, junior infielder Andrew Brown 
Zachary Engberg, Staff Writer
The 2015 Mountain West champion San Diego State baseball team, the third time the team accomplished the feat in the last three years, was filled top – to – bottom with key performers.
As goes with collegiate sports, however, most of those players have moved on to better things, some even getting drafted into Major League Baseball.
One of the few starters with previous experience heading into this season will be junior infielder Andrew Brown, who will be heavily relied on in the 2016 campaign.
As one of only six returning Aztecs with at least 100 at-bats last season, along with sophomore infielder and pitcher Alan Trejo and redshirt-senior outfielder Spencer Thornton, among others, he will be expected to head SDSU's offensive attack in the upcoming season.
Brown had the most at-bats, hits and RBIs in the 2015 season of any returning player.
Last season, Brown hit .295 with 75 hits and 32 RBIs in 64 starts for the Aztecs.
Likewise, Brown was a defensive standout in his sophomore season.
He was involved in 20 of SDSU's 41 double plays in 2015, and committed only seven errors in 457 chances for a .985 fielding percentage.
As one of the few returning starters, Brown is expected to not only repeat his performance from last year, but take on an increased role on the defensive side of the ball.
New pitching coach Sam Peraza spoke highly of Brown.
"He could possibly be one of our best defenders, if not our best defender," Peraza said.
He is not simply a great defender, Peraza went on to explain, but a versatile one.
"He will be starting at 2nd base, but he can play anywhere," Peraza said. "He can play the entire infield."
Remember the name and learn the face, because you will be seeing more of Andrew Brown in the Aztecs' infield this season.
Track and field, sophomore sprinter Jazmen Bunch 
Matthew Fierst, Staff Writer
San Diego State sophomore sprinter Jazmen Bunch had a superb freshman year, finishing in third place in the 200-meter sprint at the Mountain West Track and Field Championships and being named to the 2015 all-MW track and field team
With a year of experience and respectable freshman accolades behind her, Bunch will look to become a major part of the women's track and field team's success in her sophomore year.
In the offseason, Bunch trained with her high school coach on parts of her game she believed she needed to improve upon.
"I worked with my coach who trained me in high school and we worked on endurance and time," Bunch said. "(We also worked on) doing my drills right so it could help me transform into how I run with my mechanics."
Bunch is eager for this upcoming season because of more pure talent on the team in comparison to last season.
"We have so many people transfer-wise and freshmen and we have higher talent than we did last year," Bunch said. "I feel that our expectations will be higher."
Bunch is also enthusiastic to see the strength of the team come out and be put on display.
"We have so many strong people individually which makes us even stronger in force when we all come together as one," Bunch said.
While she's focused on her team competing at the highest level, Bunch has also placed some pretty high expectations on herself individually.
"My personal goal is to run an 11.2 (seconds) for the 100-meter, and run a 23.3 (seconds) for the 200-meter," Bunch said. "(I also want) to win conference and make it to regionals and nationals."
Women's golf, senior Emma Henrikson 
Brandon Truffa, Senior Staff Writer
A young team always needs some sort of veteran leadership.
Emma Henrikson of the San Diego State women's golf team is the lone senior on a squad with three sophomores, two freshmen and one junior.
Originally from Malmö, Sweden, Henrikson is the assigned team captain, and feels her experience of year's past is a huge benefit in helping the younger members on the team.
"I think that they look up to me, and I try to be a leader," Henrikson said. "But I try to lead by example instead of telling them what to do."
Last season, Henrikson earned her third first team all-Mountain West honors, finished as the team's top golfer in four tournaments, and tied for the team lead with a 73.93 scoring average.
Henrikson has continued her individual success through the first half the 2015-16 season.
She finished first place in the Golfweek conference challenge, finished in third in the Branch McGuire Invitational and leads the team with an average score of 70.83.
Over the break, Henrikson returned to Sweden for a short time before heading back to the United States to train with the Sweden National Team in Florida.
But for Henrikson and the Aztecs, the spring season is dawning and the anticipation of returning to the course is higher than ever.
With only four tournaments before the MW Championship and NCAA Regionals, SDSU are looking for a strong finish to its already successful season.
"I'm looking forward to (Regionals), just because in my college experience so far we've never done well at Regionals, although I think we deserve a spot at Nationals." Henrikson said.
The Aztecs will tee off the spring season in Peoria, Arizona, at the Westbrook Spring Invitational Feb. 21-22.