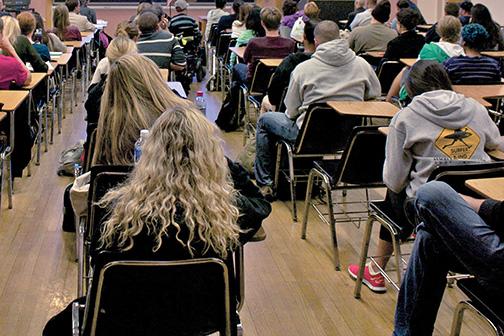 Like orange juice and toothpaste, there are certain things that should never be paired together. Like this nasty combination, it seems that courses centered on the sciences or literature could not be merged with the traditional arts.
However, San Diego State's Arts Alive has set out to change this notion with the Interdisciplinary Teaching Exchange program.
In this new program, two or three faculty members from different disciplines will design courses meant to complement each other. These stacked courses are offered at the same time on the same day with each professor assigned to their own space. What makes these classes unique is that the two separate classes will meet together a handful of times during the semester for a collaborative lecture.
Among these classes is professor William Nericcio's Introduction to Literature and professor Eric Smigel's Music and Culture: Psychedelic Rock of the 1960s.
While an introductory course to literature may seem strikingly different to a psychedelic rock music and culture class, the similarities are undeniable.
"The idea of Arts Alive is to blend professors from different disciplines to create imagination and creativity," Nericcio said. "(Smigel's) emphasis is on music culture and my emphasis is on seeing how music culture manifested itself in literature, so I think it's an easy fit."
Both professors teach large-lecture classes, and both professors had heard about each other from their students. The opportunity to collaborate and design a blended course hand in hand was impossible to pass up.
Smigel described the Interdisciplinary Teaching Exchange program as a way for professors working in fields outside of the arts to collaborate with various professors.
"This is the very beginning of the program, so that makes it really exciting," Smigel said.
Nericcio and Smigel's stacked course will be offered in fall 2016, so this semester is dedicated to developing a conjoined syllabus.
"I think the worst thing that happens in general education courses is that you have burnt-out professors and burnt-out students," Nericcio said. "I am not that kind of professor, and Smigel is not that kind of professor."
Nericcio enjoys comparing aspects of literature to aspects of film.
"A lot of students go into my English 220 class thinking I'm going to waste their time and have them recite Emily Dickinson poetry, but my approach to literature is that it is storytelling," Nericcio said.
Rather than teaching music culture in the 1960s purely from a historical standpoint, Smigel uses his course as a way to teach students about societal movements and poetic song lyrics.
"In my class, we talk about the transition between rock music meant for rock 'n' roll and dancing to something much more artistic," Smigel said.
Additional stacked courses include pairings between graphic design, communication and ethnography, biology and theater. Students should expect the same level of collaboration and individuality with the other stacked courses offered.
"We are going to try to knock their socks off," Nericcio said.