California Faculty Association plans 5-day strike in April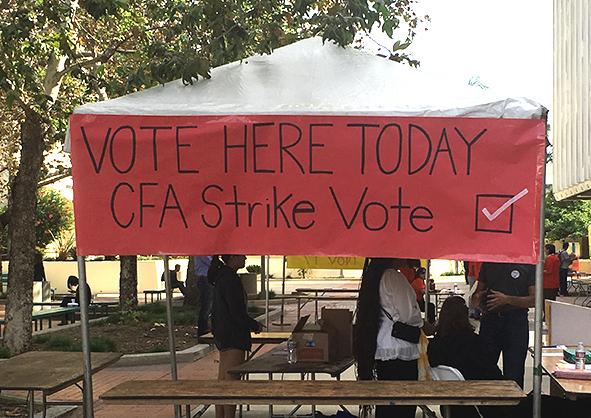 The California Faculty Association Board has decided to implement a five-day strike starting April 13 if no agreement is reached with California State University management regarding the CFA's request for a general salary increase, according to a Monday press release.
The CFA is asking for a 5-percent salary increase for its 26,000-plus tenured and tenure-track faculty, lecturers, librarians, counselors and coaches.
CSU management is currently offering a 2-percent increase.
"We've said all along that we don't want to strike, but we will if we have to," said Jennifer Eagan, CFA President and professor at Cal State East Bay, in the press release.
All 23 CSU campuses will participate in the potential strike and if the strike takes place all work normally done by faculty and staff for the universities will stop, according to the press release.
The five-day strike is set to span April 13-15 and April 18-19, unless an agreement is reached before that date.
Negotiations between the CFA and CSU management are currently in the fact-finding stage, the final stage of the negotiation process spelled out in state law. Fact-finding consists of a neutral third party hearing both sides of the argument then writing a fact-finding report that recommends how the situation could be resolved.
Both sides study the report for 10 days and attempt to reach an agreement. After those 10 days the report becomes public and the faculty have the right to strike.
The CFA's "Fight for Five" campaign has spanned the last two years and negotiations have been going on since May 2014.
"We must take a stand so that we can support our families, protect our profession, and provide high quality education for our students," Eagan said. "A strike is our last resort and we still hope that the Chancellor will invest in the faculty who are the major determinant of our students' success."
CFA members voted in October to strike if their requests for a 5-percent wage increase weren't met. Kevin Wehr, chair of the CFA's bargaining team, has led negotiations with CSU management.
"Sadly, too many CSU faculty members are falling out of the middle class or unable to rise into it," Wehr said in the press release. "The Chancellor and his team of negotiators have failed to respect CSU faculty throughout this entire process."
The CSU released a statement reading, "The California Faculty Association has announced dates for a potential strike in April. The collective bargaining process continues, and a strike cannot be conducted until the end of the process."
The release continued, "The California State University remains committed to reaching a resolution.  Campuses are preparing for the possibility of a strike.  If a strike occurs, campuses intend to remain open.  Many classes will be offered, and students should check with their instructors regarding the status of their classes.  The strike should not interfere with students being able to complete their semester and quarter courses and graduate on time."