Renowned oboist stops by Rhapsody Hall to teach eager students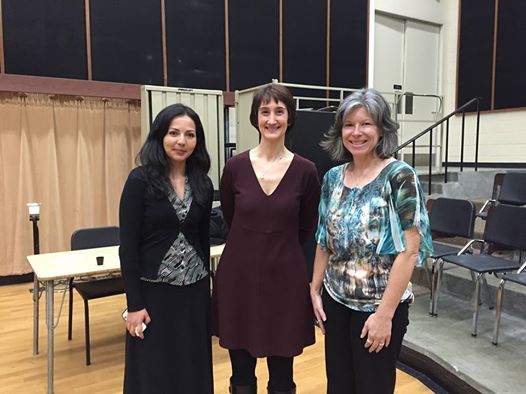 At 4:30 p.m. on Friday, Feb. 5, a brilliant melody of notes continuously flooded Rhapsody Hall as musicians and audience members gathered promptly to observe musicians perform for Anne Gabriele.
As an oboist in the Los Angeles Philharmonic, Gabriele was the special guest for School of Music and Dance's masterclass. The next masterclass with opera singer Kristopher Irmiter will be held at 2 p.m. on Wednesday, Feb. 17, in Rhapsody Hall.
The audience watched as the musicians eagerly anticipated tips and tricks. Many musicians seemed anxious to be in Gabriele's presence, especially the youngest performer Laura Gilmore from San Dieguito Academy.
As Gabriele spoke, Gilmore and others fell silent. They didn't expect her encouraging and friendly tone. Although Gabriele has been an oboist in several symphonies around the country, she spoke to the performers as an equal, passing her knowledge to each musician and every audience member.
"I am convinced that the oboe is the most high-maintenance instrument out there," Gabriele said. "Playing it is like riding a roller coaster: things work and then don't continuously."
The pieces chosen by performers ranged from the complicated, to the vastly more complicated. One performer, SDSU graduate student Juliana Gaona, selected a piece originally composed by Mozart, which is commonly used by directors in auditions.
"We've turned the Mozart concerto into an Olympic event," Gabriele said. "Playing it is scary and haunting and we've really gotten away from the music. We need to learn how to take the sport-like attitude away."
As the evening continued, Gabriele worked with each performer one-on-one to enhance their skills while entertaining the audience along the way.
"It's inspiring to hear her play, I love listening," SDSU graduate student Dawn Striker-Roberts said. "When someone teaches you another way, even if you've heard it before, you tend to listen to it more."
Gabriele constantly offered advice and commentary to not only the performers, but the audience as well, considering several identified as musicians themselves.
"It's difficult to play softly on a wind instrument," she said. "You want the sound to have color, to be descriptive, to sing. The ending note is just as important, and tells just as large a story as the beginning note."
Slowly, the musicians became red-faced and tired as the end of the masterclass drew near. When the performers finished their pieces and received commentary, Gabriele opened the floor to questions from the audience. Many audience members were curious about her audition practices.
"Auditions are something people are really good at, and I'm not one of those people," Gabriele said. "I start practicing six to eight weeks before, working on technicality and fluidity. I cannot overemphasize how important practicing scales (is)."
Before playing for friends and then for colleagues, whom she finds the most frightening, Gabriele said she first plays for a tape recorder to decrease her nerves.