Tasty Tuesday: Secret sauce completes the signature dish of Halphen Red Burgers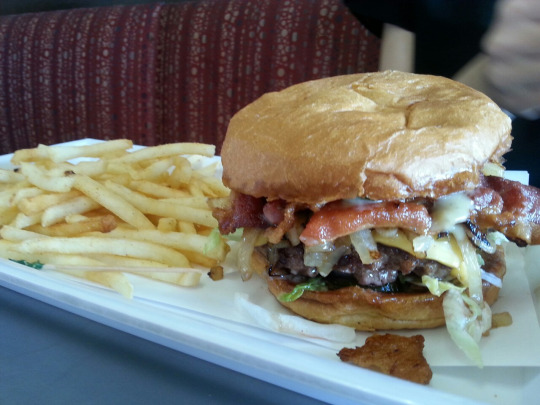 When craving a juicy, mouth-watering burger, head to Halphen Red Burgers located between East H Street and Otay Lakes Road in Chula Vista. Complete with crispy buns, its flavorful gourmet burgers do not disappoint.
This small burger joint opened its doors in 2012 as the result of owner Ben Lapid's passion for burgers and the creation of his signature secret sauce. His sauce used to be sold at local farmers market before eventually becoming the magical ingredient to all of HR's burgers.
HR Burgers has a playful atmosphere. The walls are covered with pop culture memorabilia from numerous decades. Vintage baseball cards and 1950s Coca-Cola ads are alongside posters for modern TV sitcoms such as The Big Bang Theory.
Service is friendly and wait time for one of these made-to-order burgers is conveniently short.
The menu is relatively simple, only offering a few varying types of burgers and fries. All burgers come with tomatoes, onions and the signature HR sauce. Customers can choose between pepper jack, cheddar or American cheese. Additional toppings such as grilled onions, pepperoncini, olives, jalapenos, pickles and barbeque sauce can be substituted or added for free to any burger.
The restaurant's original salmon burger for $5.99 is delightful and a favorite among customers.
"For me, I love ordering the salmon burger with grilled onions and pepperoncini's," customer Ronnie Garcia said. "I don't know any other place that has salmon as an option and it just tastes amazing."
The salmon is grilled and seasoned, giving it a burst of flavor when combined with HR's signature dressing. Juices drip and the burgers can get very messy, but isn't that exactly how it is supposed to be?
Another burger worth trying at HR is its vegetarian-friendly option, the chipotle black bean burger.
Regular fries can be substituted for cheese fries or garlic seasoning can be added for a dollar more. These crispy, thin cut fries are satisfactory, though the garlic fries could use a bit more garlic to add that desired extra punch of flavor.
While the food is good, this restaurant's compact size may not be too ideal for larger groups. Be careful what time you go as well. Its location between Bonita Vista High School and Southwestern College also can add congestion to the traffic, making this whole-in-the-wall burger joint sometimes too crowded for comfort.
HR Burgers is open 11 a.m. to 10 p.m. Mondays through Saturdays and closes at 9 p.m. on Sundays.