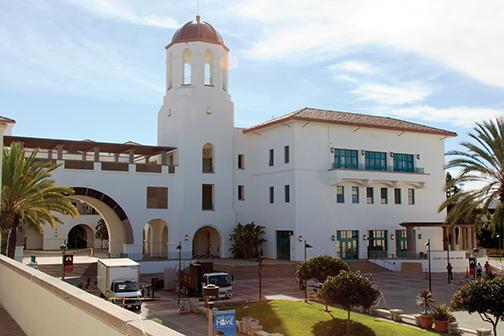 In solidarity with Child Abuse Awareness Month, OUTreach and the Latino Student Social Work Association are hosting a Resource Fair and screening of the documentary "Paper Tigers" on Friday, April 15.
"Paper Tigers" follows a year in the lives of several students at Lincoln High School, an alternative school where many students have a history of truancy, behavioral problems and substance abuse. After researching the effects of adverse childhood experiences, the principal decides to change the school's approach to discipline. The documentary examines the results of this change.
Silvia A. Barragan, a lecturer in the school of social work said she was preparing for her psychosocial development of vulnerable children course when she saw "Paper Tigers" for the first time.
"I realized that I needed to share it with the entire university," Barragan said.
She said "Paper Tigers" speaks to toxic stress, complex trauma and helps to bring together the research of an important adverse childhood experiences study.
The study was conducted out of Kaiser Permanente in conjunction with the Center for Disease Control. A questionnaire was given to 17,000 patients at Kaiser to figure out how adverse childhood experiences might impact their long-term health.
Barragan said people often think that individuals with poor health outcomes live in poverty, have no education and are part of an ethnic minority. She said this ongoing study of 400,000 people proves that the universal factor for individuals with poor health outcomes is adverse childhood experiences.
"It is important to have this event on campus because SDSU is a microcosm of a larger society," Barragan said. "We have a lot of individuals on our campus who have experienced adverse childhood experiences and it gives us a window as to how we should treat each other as a whole."
Barragan said the resource fair and screening are a way for people working in trauma informed practice to compare notes and teach SDSU faculty, students and staff at the same time.
The resource fair and reception will begin at 4 p.m. in Templo Mayor.
An introduction and the screening of "Paper Tigers" will be from 6 to 8 p.m. in the Conrad Prebys Aztec Student Union theater.
The event will conclude with a discussion and a  raffle. All proceeds are being donated to California Youth Connection, a youth led organization whose mission is to assist youth in foster care and advocate for laws that will benefit them.
"I hope students, faculty, and staff that attend the event walk away feeling compassion and realize that trauma impacts everybody and all walks of life," Barragan said.