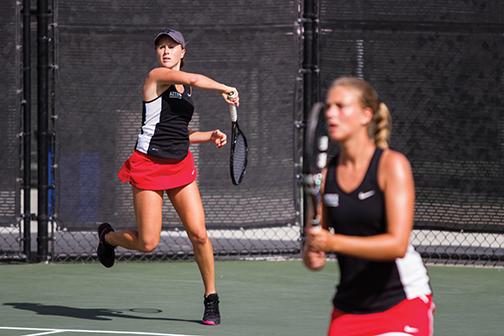 The San Diego State women's tennis team did not have a pleasant result in its final home match of the regular season, falling 4-1 to University of San Diego on a hot Wednesday afternoon at the Aztec Tennis Center.
The Aztecs honored seniors Isabelle Horn, Tami Nguyen and Dora Somocracz before the match.
The Aztecs' day on the courts started off gloomy, as Nguyen and junior Kennedy Davis were defeated by USD senior Shani Blecher and junior Colomba DiFilippo, 6-3, in the third spot in doubles action.
The Aztecs' doubles woes continued as Hoorn and junior Taylor Lederman were beaten by USD sophomore Drew Spinosa and senior Dana Oppinger, 6-1.
Singles play did not turn out to be kind to the Aztecs on Wednesday either, as USD secured its second point when Lederman fell victim to DiFilippo, 6-2, 6-2.
In the third singles spot, Spinosa took down sophomore Paola Diaz de Regules, 6-2, 6-1, to continue the Aztecs' tough afternoon.
Davis was able to spark some momentum for the Aztecs in the fourth spot, as she overcame freshman Maria-Paula Torres 6-4, 6-4.
Davis's victory, however, was not contagious to the rest of the Aztecs, as Nguyen fell to senior Marta Stojanovic, 6-3, 2-6, 6-3, giving USD the final point to secure the victory.
Aztec sophomore Jana Buth's match against Oppinger was left unfinished with Buth in the lead before the match was stopped because USD had clinched the win.
Another match that was left unfinished because of the Toreros' win was the matchup between Hoorn and freshman Sophia Chow. Hoorn fell to Chow, 6-1, came back to defeat Chow, 7-6, and then the match was left unfinished with Hoorn leading, 1-0.
The Aztecs have a tough matchup looming Saturday against UNLV, which is 20-1 and whose only loss came against No. 39 Fresno State
SDSU will travel to Las Vegas  on Saturday, and then head to the Mountain West Championships in Fort Collins, Colorado, starting on April 28.