Powerhouse Stanford hands SDSU lacrosse a defeat in final game of season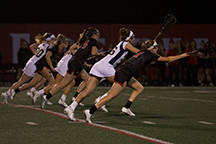 San Diego State lacrosse closed out its season Sunday afternoon against Stanford University (13-3, 8-1 MPSF), a team known for being extremely active on the offensive side of the ball and were defeated by the Cardinal, 16-10.
After going a program-record 9-8 last season, the Aztecs took a step back this year (4-11, 3-6 MPSF).
The Aztecs fought hard in their finale though against a Stanford team ranked inside the top 15 of multiple national polls.
"I'm very, very proud of how our entire team played today," SDSU head coach Kylee White said. "From goalie, defense, offense, midfielder, just all around."
Sunday also marked senior day for a group that helped lead the team to its only record over .500 in the program's five-year history in 2014-15.
"This group of seniors is very special. They are exceptional people and we are going to miss them a lot. I wish them the best in the future."
The fist goal of the game came from Stanford sophomore midfielder Kelly Myers.
SDSU junior Kristen Hickey answered back nearly 40 seconds later and then scored again, letting the Cardinal know that the Aztecs weren't going down without a fight.
Stanford then scored seven unanswered goals in a matter of 15 minutes, with goals from sophomore Maggie Nick, Myers, junior Kelsey Murray off a free position attempt, senior Mackenzie Tesei, junior Elizabeth Cusick off a free position attempt, sophomore Dillon Schoen and senior Anna Salemo. The run put Stanford up 8-2.
Hickey scored her third goal of the game to stop the Cardinal's seven-goal streak. However, Nick was given a free position attempt shortly after and scored.
Before the end of the first period, SDSU junior Ijeoma Ikpe scored, but Myers scored again for Stanford, giving the Cardinal a 10-4 lead at the half.
At the start of the second period, Mackenzie Tesei scored her second goal of the game for Stanford
Then the Aztecs mounted a 4-1 run, with goals coming from junior Vickie Porter, redshirt-senior Katie Gill, sophomore Mackenzie Lech and Hickey, making the score 12-8.
SDSU junior defender Casey Taggart was then handed a penalty, forcing her to sit out for a minute.
The Cardinal capitalized with the Aztecs a player down, getting a goal from senior Paige Southmaid.
Stanford earned a penalty themselves shortly after, which allowied Ikpe to score an easy goal and cut Stanford's lead to 13-9.
SDSU scored its final point of the game from Hickey, which gave her five goal on the game. Salemo closed out the game with her 31st goal of the season.