SDSU baseball readies for key series against rival Nevada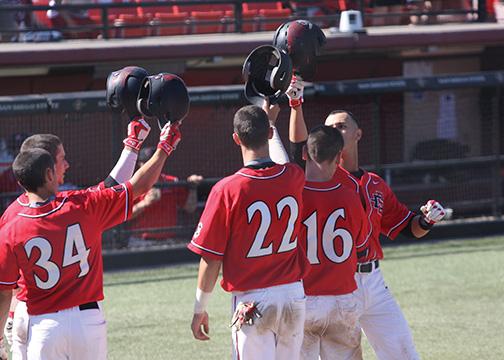 For the second time this season, San Diego State baseball will face off with Mountain West Conference rival University of Nevada, Reno, as it attempts to pick up steam entering the stretch run of the 2016 season.
The last time the Aztecs (12-26, 5-10) saw the Wolfpack (19-20, 9-8), the men from the mesa were unable to record a win in two games, losing 6-5 on Friday and 3-2 on Saturday in Reno during spring break.
The third game of the series was suspended in the tenth inning, tied 6-6 with Nevada at the plate, and will be completed on Friday at 5 p.m.
Since that series, however, the Wolfpack have suffered a setback, going 5-8 including a 6-game losing streak to drop to third in the MW. 
Nevada has had SDSU's number in the last few seasons, taking the last three regular season series totaling eight consecutive wins.
But the Aztecs will need to end the skid against their rival if they have any hopes of turning this nightmare of a 2016 season around – if there is any hope for that.
With only 15 games remaining – 13 against MW teams – each game becomes exponentially more crucial, and each loss increasingly damaging.
Although SDSU is sixth place (out of seven teams) in the MW, and eight games back of leader University of New Mexico, in the conference tournament format, getting hot at the right team may spell success for the three-time defending MW champs.
And the time is now to begin a run against a Wolfpack team that has fallen into a rut recently.
The Aztecs will have to rely heavy on their offense this weekend, a unit which has picked up the pace versus conference opponents this season.
Seven SDSU hitters are hitting at a clip of .300 of higher in conference play, including sophomore shortstop Alan Trejo, who has led the team with a .338 batting average and 23 RBIs, and redhsirt-senior outfielder Spencer Thornton, who has a team-high five home runs.
Thornton in particular has been hot as of late, hitting .364 with five RBIs and 12 runs in his last 22 games.
The veteran, who has been a part of all three conference-winning Aztec teams, will be instrumental if the young team has any intentions of returning to the postseason.
He will lead the charge against a Nevada pitching staff who has struggled in 2016, seeing all four of its consistent starters post ERAs over four, with the lowest being senior righty Christian Stolo at 4.36.
In total, the Wolfpack staff has a 4.75 ERA, and opposing hitters have batted .286 against them.
That is still not as rough as SDSU pitchers have had it this season, allowing a .301 batting average and recording an ERA of 5.50.
The Aztecs have not found consistency in their starting unit all season, as they have seen eight different men start games, with each pitcher recording at least two relief appearances.
The pitchers will see a trio of hitters similar to the high-powered batters they faced in New Mexico last weekend in sophomore outfielders TJ Freidl and Cole Krzmarzick and junior shortstop Miles Mastrobuoni.
Freidl leads the Wolfpack with a .403 batting average, while Krzmarzick is not far behind at .398. Mastrobuoni, meanwhile has been the power hitter of the unit, leading the team with 23 RBIs and 13 doubles.
Game one of the series will commence immediately after the completion of the suspended contest, with games two and three coming on Saturday and Sunday, respectively.