SDSU baseball takes 13-9 loss, ensuring series sweep at hands of Nevada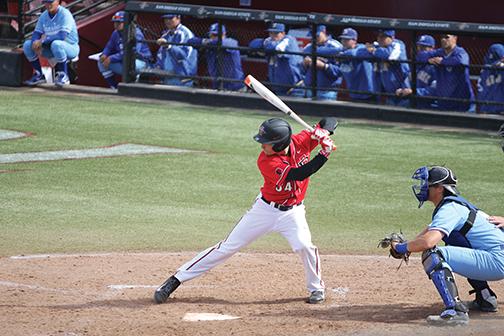 San Diego State baseball recorded a number of milestones in a 13-9 loss to University of Nevada, Reno on Sunday afternoon.
The loss marked its first 30-loss season since 2013, and its fourth consecutive series sweep against the Mountain West rival.
After losing a close 8-5 game on Friday and being shutout on Saturday, the Aztecs (12-30, 5-14) allowed four consecutive innings of at least two runs to the Wolfpack (23-20, 13-9), who have now won five in a row.
SDSU pitchers struggled from the onset, allowing 27 base runners while striking out only five batters and giving up at least one hit to each Nevada batter.
Nevada scored all 13 of its runs from the second to the fifth inning, jumping out to a 13-1 lead before the Aztecs had a chance to settle in on offense.
"We obviously stepped on our own foot today," head coach Mark Martinez said, in reference to his team committing five errors in the first five innings of the contest. "No team is really built to come back from a 13-1 deficit."
The run started with a two-run home run from senior third baseman Bryce Greager, his third long ball of the season.
SDSU hit back, scoring one run on an RBI flyout by redshirt-senior designated hitter Spencer Thornton.
But the Wolfpack responded with a three-run third inning, scoring two on an error-filled one-out play that saw miscues by junior starting pitcher Cody Thompson and sophomore right fielder Chase Calabuig lead to a 5-1 Wolfpack lead.
Another error, paired was an RBI double, gave Nevada an 8-1 lead after the fourth inning.
In the fifth inning, the Wolfpack took advantage of every Aztec mistake – which there seemed to be an abundance of – scoring five runs on four singles, one bunt single, a single that bounced off of sophomore pitcher Chris Collins, a catcher interference, and a multitude of errors.
After that cartoon of an inning, Nevada held an authoritative 13-1 lead over SDSU, and it looked to be a second consecutive demoralizing loss.
It seemed, however, once the Wolfpack stopped scoring, the Aztecs began to pick up steam – something they have been accustomed to doing in 2016, a feature of their team that comes from a desire to honor the veterans on the roster that have had to suffer through such a demoralizing year, according to sophomore center fielder Denz'l Chapman.
"It's kind of embarrassing for the older guys in our program," Chapman said, "so we try to find the willingness to fight for them and to fight for ourselves. Even though things are not going well right now we just try to go out there and play for each other, the best we can."
After a single from sophomore second baseman Justin Wylie and walk of sophomore shortstop Alan Trejo, freshman third baseman Jordan Verdon – who was making his first start at the no. 3 spot in the SDSU lineup – drove in Wylie on a one-out single, and a sacrifice flyout drove in Trejo.
Verdon validated coach Martinez's decision, going 2-5 with two RBIs and one double on Sunday afternoon.
In addition to Verdon's promotion was Denz'l Chapman's, who went 2-4 with one stolen base in his first start of 2016.
One seventh inning run, followed by a five-run rally in the final frame that featured a two-run, two-out double from freshman designated hitter Dean Nevarez, giving the power hitter 14 RBIs on only 18 hits, by far the best rate of any Aztec, made the score a more reasonable 13-9.
With all the ups and downs of his team's performance, coach Martinez sees the game as a possible teaching moment and a building block toward creating some momentum for his young squad.
"I'm not real happy with today," Martinez said, " but I will say that we showed some character toward the end, and that bodes well going into the week and is something we can build on a little bit."
Next up for the Aztecs is Cal State Fullerton, who they last played on March 15, when Fullerton shut them down in an 8-1 win.
The two teams will face off at Tony Gwynn Stadium on Tuesday night.