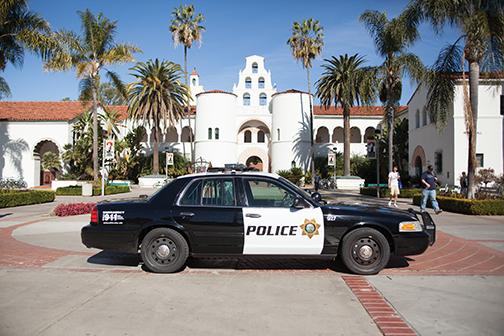 An SDSU student, identified only as 19-year-old  "John Doe" in official court documents is bringing charges against the university, claiming that he was unfairly expelled after an Title IX investigation which began approximately 1 year ago.
The investigation
On April 27, 2015, a 19-year-old SDSU student identified as "Jane Roe" in the court documents filed a Title IX complaint, alleging that "John Doe" had sexually assaulted her on April 18. Dr. Lee Mintz, director of the center for student rights and responsibilities was the investigator. She interviewed Roe on April 27, the day of the initial finding.
Mintz contacted Doe the same day, notifying him of the allegations of misconduct and the denial of access to person and property. Doe was a member of Theta Chi fraternity, and was barred from Greek-related activity.
In the process of Mintz's investigation, she also spoke to students who had interacted with Doe and Roe the day of the alleged assault. The investigative report was released on Aug. 18, 2015, and Doe was notified of his interim suspension on Aug. 20. A hearing was scheduled for Aug. 28. At the hearing, his interim suspension was upheld.
A second hearing was scheduled for Oct. 15. He was notified of his expulsion on Nov. 13.
No right to appeal?
Doe sent an email to Eric Rivera on Nov. 17, requesting a copy of the hearing officer's report, and information on the appeal process. He sent another email, with the same request on Nov. 19. He sent a third email on Nov. 24, requesting the same report and appeal information.
Antionette Marbray, the Associate Vice President for Student Affairs responded to the Nov. 24 email. She told Doe that according to Executive Order 1098 of Title IX, the university wasn't required to send him a copy of the hearing officer's report, but they would provide one to him nonetheless.
She also wrote that the Executive Order should not include notice of the student's right to appeal, simply because there are no options for appeal.
"The Executive Order does not provide any further appeal within the California State University System," she wrote.
Executive Order 1098, in its present iteration, reads, "The decision letter shall include: The outcome of the hearing on sanctions, including any sanction imposed and the name of the Student charged; and A copy of the Hearing Officer's report, redacted as appropriate or as otherwise required by law. Notice of the Complainant's and Student's right to appeal to the CO."
EO1098 was revised on June 23, 2015, while Mintz was in the middle of her investigation. However, she wrote in an email, "the Executive Order and investigative processes used to investigate an incident is based on the date the incident occurred."
In this case, Doe's investigation was subject to the previous version of Executive Order 1098, which provides no apparent method to appeal.
Despite Marbray's email, Doe continued to seek ways to appeal. Though EO1098 provided no options, he submitted a Level II appeal to the chancellor's office under Executive Order 1097. EO1097 was also revised on June 23, 2015.
Assistant Vice Chancellor Linda Hanson responded to Doe's appeal.
"EO1097, Article VII.A. states that only a complainant has the right to an appeal and an appeal may only be granted if the investigation finds no violation (of) EO97," she wrote.
Given these responses, it appears that Doe had no options for appealing the decision under the then-effective Executive Orders.
According to Mintz, "When an appeal is filed, the appeal must be based on one of more of the following issues:  the outcome is unsupported by evidence, procedural errors were prejudicial and the investigation did not comply with the Executive Order, or if new evidence becomes available that was not available at the time of the investigation."
What happens next
A civil case management conference is scheduled for June 10.
Attorney for the CSU William Hsu said that a civil case management conference simply involves both parties filling out an info sheet about the case, and figuring out the best way to move forward.
"We anticipate the court will say the decision reached by the CSU was fair," he said.
Mark Hathaway, who is representing John Doe in this case, said "the evidence simply doesn't support the findings."
He also claims that certain pieces of evidence, including a polygraph test and testimony from a marijuana expert, were ignored.
His firm, Werksman, Jackson, Hathaway and Quinn, specializes in defending students accused in Title IX cases.
"I'm interested in these cases because what we're seeing is valuable rights being taken away by what appears to be a political agenda," he said.
"If there's not fair process for everybody, hundreds of thousands of students in the CSU system risk losing their right to an education arbitrarily."
This is the second case in a year in which the university has been accused of mishandling a Title IX investigation.
In April 2015, Francisco Sousa sued the university for not providing information necessary to his defense. The case is pending, but his suspension was lifted in September.