Meet the class of 2016: Saumon Elhaie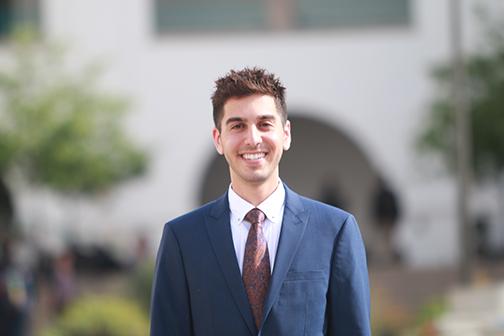 The first in his family to go to college, business senior Saumon Elhaie has made the most of his time at San Diego State.
Elhaie's parents originally came to Toronto from Iran as refugees back in the 1980s.
"Not knowing anyone, not having any money, not having an educational background, it was definitely a really big struggle for them to start … a stable life," Elhaie said.
Although it was difficult to restart their lives in a foreign country, eventually Elhaie's parents settled into a comfortable life in Canada with Elhaie and his two younger sisters.
"Life was good (in Canada), but my parents knew they wanted more in life, they wanted more for us," he said.
Elhaie moved to San Diego with his family at age 15 in 2009 to live the American dream, he said.
However, the transition was not easy. The Elhaies lived with other family members for about a year before getting a place of their own, and then struggled to gain their financial footing in the U.S. in the height of the recession, Elhaie said.
Originally denied admission to SDSU in 2012, Elhaie appealed the decision by sharing the struggles he had moving to the U.S., as well as his heavy involvement with multiple student organizations.
"Honestly when I did get denied it was a relief finding out there is an appeals process because I wanted SDSU to hear more about my background and who I am beyond my grades," he said.
The appeal worked, and once he arrived at SDSU in the fall of 2012, Elhaie decided to make the most of his time on campus. During Elhaie's freshman year, his father moved back to Canada in order to provide for the family.
"One of the reasons why I am so motivated is to prove to my parents that everything that they've gone through, all the sacrifices and the hardships, in the end it's worth it," Elhaie said.
Elhaie joined a multitude of organizations starting his freshman year, including the Associated Business Student Council, Associated Students Recreation Committee and the business fraternity Alpha Kappa Psi. He also helped create SDSU's first Persian Student Association.
Elhaie has also had five internships throughout his time at SDSU, two of which have been for Fortune 500 companies, Target and IBM.
However, it was his time within Alpha Kappa Psi that Elhaie appreciated the most. He held multiple leadership positions within the organization, including an executive position as a leadership mentor.
"One thing that's really stood out to me is if you want to be successful in the world, you have to know how to be a good leader, because at the end of the day you're working with people," Elhaie said.
Elhaie hopes to have impacted the students he mentored during his time at SDSU. He also hopes to create a scholarship fund in the future for students who struggle financially.
"I've always recognized the fact that I've gotten so much help to become the person that I am today, whether it be financially or people just helping me, and I realize it's people like that that truly make a difference in this world," Elhaie said. "If you have a dream and you want an education, the last thing that should be getting in your way is money."
After graduating Elhaie will head to San Francisco to work with IBM full-time.
"It's definitely bittersweet that college is coming to an end," he said. "But I can confidently say that I'm ready for the next step."