Meet the class of 2016: Lorena Acosta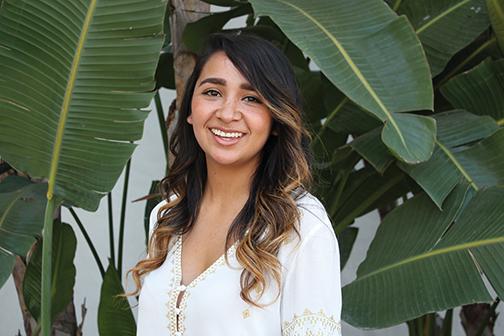 In 1897, San Diego State created a legacy survived by the diversity, leadership and innovation of its students.
Four years ago, a San Marcos native embarked on her Aztec experience and became a part of that 119-year-old legacy.
Four years ago, Lorena Acosta became an Aztec for life.
The business administration management senior balanced 18 units per semester, several outside internships, a minor in Spanish, and a minor in digital and social media studies. As if there was not enough on her plate, two weeks into her first year she was recruited into Associated Students by former president Jonathon Cole.
"Coming into school as a freshman I knew I wanted to get involved in leadership right away," Acosta said.
In 2012, Acosta joined the Cultural Arts and Special Events Board, which later became the Aztec Student Union Board. The following year Acosta became the Special Events Chair of ASUB, where she worked with 18 committee members to plan and execute 34 events during the academic year. In 2014, Acosta became the Commissioner of ASUB and oversaw nine subcommittees, 120 volunteers and 101 events.
"I admire Lorena because she serves as an advocate for so many different types of students and student activities," Executive Director of A.S. Christina Brown said. "She's touched so many diverse areas of campus and I look forward to seeing what she's going to do and who she is going to become."
As a senior, Acosta now sits on the Campus Life Council as an appointed student-at-large on the A.S. Board of Directors. The board is composed of five executives and six student-at-large representatives, including Acosta, who all oversee the business side of A.S. and work with other commissioners to help student organizations find their footing.
"It's been so encouraging to see so many students, staff and faculty stand up for what they believe in," Acosta said. "I've worked with so many great leaders and staff that have really helped me to grow during these four years."
During her time as an appointed student-at-large on the board, Acosta has worked closely with current A.S. President Blaire Ward.
"Lorena is incredible and brings energy and insight into every room," Ward said. "I always go to here for advice. She's my person and I'm really going to miss working with her."
Even with all of the responsibilities as both an A.S. board member and a full-time student, Acosta wanted to broaden her impact on campus. After one semester of two-hour training every Wednesday, she became an SDSU Ambassador in December 2012. Acosta said training to become an ambassador involves a lot of shadowing, studying, learning tour scripts and walking backwards.
"I remember seeing how ecstatic the ambassadors were all throughout freshman orientation and I knew that could be me," Acosta said. "I always said how cool it was to be able to influence another person to go to a school that you love. We all have so much pride in our school and I love being able to show that to potential students."
For four years, Acosta has successfully juggled being an ambassador, a student-at-large on the Board of Directors of A.S. and a Rotaract member knowing she made an impact on her peers as a mentor.
"Everything I've been involved with has impacted not only my Aztec experience, but other students' (experiences), as well," she said. "I'm so thankful that this university is and will remain a place where students can get involved in whatever activity they choose."
After graduating in May, Acosta plans to pursue a career in social media marketing.