Now trending on the Mesa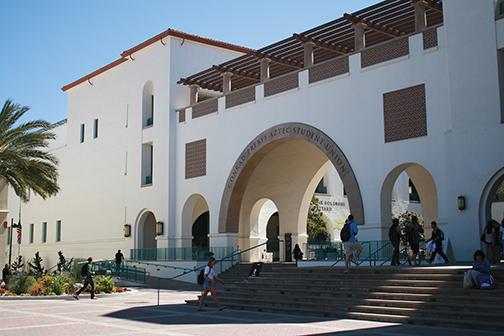 San Diego State has undergone a vast amount of change since its inception in 1897 and continues to grow with each incoming class of students.
The four items that stick out most for this snapshot of SDSU's rich history are the changes to the physical campus, emphasis on research, study abroad and entrepreneurship and the improved overall graduation rates.
Physical campus
The university has changed its physical make up drastically, most notably with the addition of the Conrad Prebys Aztec Student Union.
The student union opened in January 2014 and includes Aztec Lanes, the ARC Express and a variety of on-campus food options.
Construction started this year on the Engineering and Interdisciplinary Sciences complex, which is set to open in January 2018.
This latest $90 million construction project represents a push by the university to become a top 50 research institution.
Focus on research
In recent years SDSU has placed an increased emphasis on research to go along with the university's high rankings in study abroad and entrepreneurship programs.
"Among the (California State University) campuses, we are probably one of the most research active," said Stephen Schellenberg, Interim Dean of Undergraduate Studies.
Schellenberg said the key to research is being able to hire high-quality faculty and support them in their research endeavors.
"The great thing about the Student Success Fee, that's been controversial in some ways, is that we wouldn't be able to the number of faculty (we have)," he said. "We would be doing a small percentage of that without that student support."
SDSU is ranked 15th in number of students studying abroad among all U.S. universities, according to an Institute for International Education's Open Doors report.
Schellenberg said study abroad opportunities fall into the category of "high-impact practices," which help students learn in other ways than just listening to lectures.
SDSU's entrepreneurial program is also ranked among eighth among public universities and 21st for all universities in the country, according to U.S. News & World Report.
Chief Communications Officer Greg Block said SDSU has been known for entrepreneurship since he attended in 1992-95.
"I think the entrepreneurial spirit has been embedded in SDSU for decades," Block said.
Graduation rates
SDSU was recognized as one of only 26 universities in the country to increase six-year graduation rates for all students while also closing the gap between white and underrepresented students during the 10-year period from 2003-2013, according to a report published by Education Trust.
Schellenberg said the key to improving graduation comes through engaging students.
"I deal with lots of paperwork and compliance things, but what's great is every day I learn something new about how a faculty member or staff member is helping to make a difference in students and their achievement and pursuing their goals," Schellenberg said.
Block said he thinks the improved graduation rates have a lot to do with the improved quality of students.
"The biggest change that I think I have seen is the quality of the students here," Block said. "The joke among people in my generation is I would have never gotten in if I had applied today and for most of us it's probably true."