Band of Skulls returns to San Diego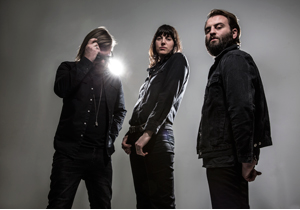 English rock group Band of Skulls will be returning to San Diego Sept. 24 to perform at the Belly Up in Solana Beach. This time around its tour coincides with its latest album, "By Default," that dropped May 27.
Band of Skulls is guitarist and vocalist Russell Marsden, bassist and vocalist Emma Richardson and drummer Matt Hayward.
With "By Default," Band of Skulls sticks to its rock and roll roots while also embracing funky melodies and clever lyricism.
"We brought some modern influences into (this album)," Marsden said. "It's still guitars and drums essentially, but some of the techniques in the songwriting wouldn't have been around even 20 years ago."
Marsden believes the modernity present in "By Default" is evidence of the band's progression as songwriters.
"Some of the ways we went about making the record, we wouldn't have thought about doing it that way on our first or second albums," he said.
With four albums and two extended plays under its belt, Band of Skulls has certainly established a name for itself in the world of rock. However, the members continue to challenge themselves.
"We had to make it known what we were capable of as a band during this album just so we could keep our options for what we do next," Marsden said.
Marsden finds that when the band members are in the studio working on new and upcoming material, they can find influences and inspiration from the outside world around them.
"Everything (we) hear, the background noise (we) experience in life, (we) get into the studio and try to remember what that is," he said.
The band's internationally known music has also resonated with students at San Diego State.
International security and conflict resolution sophomore Brandon Battaglia respects the attention to detail present in "By Default."
"Their notes are precise and they clearly put a lot of work into each song to make them as good as possible," Battaglia said. "('By Default') certainly would appeal to a rock and roll crowd."
Band of Skulls has not been in San Diego since performing at the House of Blues in May 2014. Currently on tour in Europe, the band is excited to come back to the states.
"We always love coming back (to San Diego)," Marsden said. "We're really looking forward to coming back down."
Band of Skulls' shows will appeal to new and old fans alike, as they still play songs from their past albums, reigniting them with new energy.
"We've been trying to put a lot of elements of the older songs into the live set," Marsden said. "Any song that you might have heard before, we try to bring some of those ideas onto the stage that normally we would just leave behind."
Those who have never seen Band of Skulls live should be prepared for a high-energy show.
"We're not necessarily a really heavy band, but we're a really loud, excited band," Marsden said.
The U.S. leg of Band of Skulls' tour will also serve as inspiration for their next release.
"When we get back to the states (new music) is really going to be in the forefront of our minds. Our experience is really going to influence what we do next," Marsden said. "By the time we get to the end of the year there will definitely be some new music."