SDSU remembers Conrad Prebys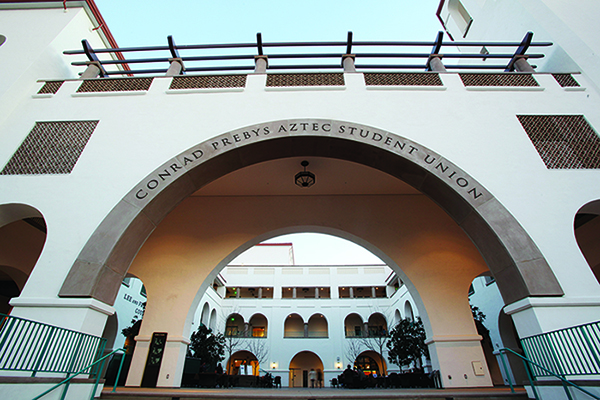 The death of one of San Diego's most notable philanthropists and San Diego State donors, Conrad Prebys, caused SDSU students and faculty to mourn.
Prebys died July 24 at Scripps Mercy Hospital after losing his battle with cancer.
Although he made his living as a real estate developer, he is most recognized for his generous donations to institutions like the San Diego Zoo, Old Globe Theater and Scripps Mercy Hospital.
In early 2014, Prebys announced a $20 million donation to SDSU for scholarships, his first donation dedicated to student scholars.
That same year, SDSU named its renovated student union after him as recognition for his generous gift.
During an interview with SDSU in Feb. 2014,  Prebys expressed that his connection with SDSU alums built his relationship with SDSU.
"When I was thinking about it, it turns out everybody that works for me went to San Diego State," he said. "We've been connected for years and years and years."
Money from Prebys' donation has been used to support students in areas like entrepreneurship, bio-medical research, creative and performing arts and student veterans.
Tyler Hadzicki, a mechanical engineering major and inventor of Leaux Racing Trike, received one of the entrepreneurial scholarships in 2015. He said Prebys made an impact on him the first time they met.
"I just remember him being a super genuine guy," Hadzicki said. "He really made me feel as if he cared to hear about what I was talking about. He was awesome!"
Just a few months after his $20 million donation, Prebys announced another $2.5 million gift to create a new position – the Conrad Prebys Chair for Bio-medical Research. The position's intention was to continue research into viromics, a study of viruses and their genetics.
Shannon Yandall De Jesus, a psychology major, was granted a bio-medical research scholarship upon transferring to SDSU. Although De Jesus never met Prebys in person, his generosity helped her gain pride as a new SDSU student.
"For that scholarship to be given to me, it really started my whole Aztec experience and I felt valued and that my skills were valued," De Jesus said. "I will forever remember him for the impact he had on my life."
SDSU President Elliot Hirshman awarded Prebys with an Honorary Doctorate in Humane Letters from for his philanthropic work and real estate development. Previous honorary Humane Letters doctorates have been awarded to notable figures including President John F. Kennedy and College Hall of Fame football coach Don Coryell.
In a statement, President Hirshman expressed his sadness for Prebys calling him a "treasured friend" and "supporter." 
Prebys was born in 1933 to an Indiana working-class family, according to a biography by Scripps. At 8 years old, he was told a heart condition would prevent him from doing manual labor – a setback for someone living in a blue-collar city. After moving to San Diego in 1965, Prebys cofounded Progress Construction and eventually found success in the real estate business.
The Chronicle of Philanthropy ranked Prebys 24th on its Philanthropy 50 list of the most generous donors in 2012.