A.S. update: Re-launch of "Your Voice Matters," spring events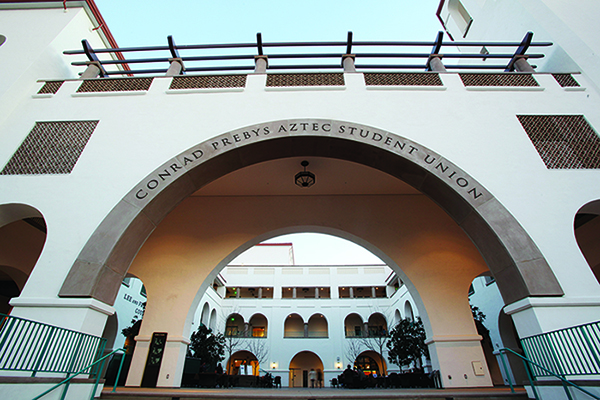 Associated Students' College Life Council discussed campus changes and upcoming events on their second council meeting on Sept. 14.  
Community Service Commission and Student Support Commission
Community Service Commission Chair Meghan Andrade said October's theme is children's education.
Student Support Commission Chair Joey Lucero said his commission is partnering with career services to provide head shots for students at each career fair.
Lucero also said his commission is relaunching, "Your Voice Matters," which consists of town hall meetings that discuss hot topics on campus.
Recreation and Wellness Commission and Campus Community Commission
Recreation and Wellness Commission Chair Chris Thomas said that with the new turf field, 15 new intramural teams have been added and signups are completely full.
He also said the Aztec Recreation Center has received 16,542 memberships this month, the second highest number of memberships for the month of September.
Campus Community Commission Chair Curtis Copin said the Montezuma Village Plan is pending approval from the city ordinance. He said the plan will not be executed for five to ten years but it will multiply the high-density student living area and re-zone small businesses.
"The plan is a sign that members of the community are starting to work with students and the university," said Copin.
Copin also said Adobe Falls will be closed off with fencing and foliage.
University Affairs Board and A.S. President
University Affairs Board Chair Chimezie Ebiriekwe said he is working with the Senate Committee on a general education reform. He said it will take effect in two years and make general education courses more relevant for each student's major.
A.S. President Jamie Miller said a campus cellphone application is now in progress and a committee is being created to research other campus apps.
Spring Events
External Relations Board Chair Dylan Colliflower said kickoff for Rock The Vote will be Sept. 26 and will end on Election Day, Nov. 8. He said Rock the Vote will include a barbeque in the courtyard and a presidential debate watch parties.
Dean of Students Randy Timm said the One SDSU Community is having a lecture called, "Immigration-Documented," on Sept. 29 in the Aztec Union Theatre at 7:00 p.m. The lecture will feature Jose Antonio Vargas, a Pulitzer Prize-winning journalist.
Timm said Aztec Nights: Barnyard Bash will take place on Sept. 27 in the Union Goldberg Courtyard at 10:00 p.m. The event will include carnival games, a mechanical bull and fair food.
Thomas said the new turf field grand opening will be on Oct. 25 12:00-2:00 p.m. He said the event will include various prizes and games.