Todrick Hall supports LGBTQ campus community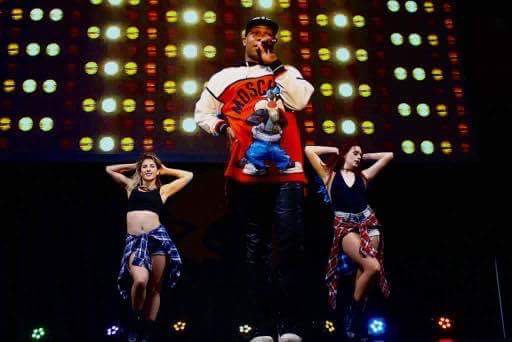 Todrick Hall, an American Idol alumnus and upcoming Broadway actor, performed and spoke to students in Montezuma Hall on Sept. 20.
The Culture, Art and Film committee of the Aztec Student Union Board planned the event.
"The first tool to becoming super successful and changing your life is to believe," Hall said. "The second thing is entrepreneurship. I know so many talented people who want to be in movies or on television or Broadway, but they don't understand the art of taking what is special about them and turning it into a brand."
Fans of Todrick Hall came to the event and discussed his music and videos.
"I've been a fan ever since I saw a video of his," senior chemistry major Joquel Vasquez said.
"I'm subscribed to his YouTube channel and I look forward to all his videos and they're all very creative and appeal to tons of people."
Hall performed on stage with his backup dancers with a mash-up to various popular songs.
After his first performance, Hall took the stage to give students advice about becoming successful in life and in their careers.
In addition to being a performer and entrepreneur, Hall is a member and strong advocate of the LGBTQ community.
He focused part of his event on reaching out to this community and played a song he wrote, "It Gets Better."
Hall said that this song was meant to be special and was written for anyone who was struggling in the LGBTQ community.
"When I wrote this, I had just quit a Tony award winning Broadway show to live in Los Angeles," Hall said.  "Many people doubted me. This song changed my life in so many ways and my fans have told me that it has changed theirs too."
Hall also spoke about how important it is that people of all demographics and backgrounds are represented in his videos.
Many of his videos feature men and women of various races and sexual orientations.
"I want someone that looks like everyone to be recognizable," Hall said. " Until there's a world where everyone is represented equally, the world will never truly be equal."
Hall also said his future plans may include taking his visual album, "Straight Outta Oz," to Broadway.
He ended the event with an open forum where students were welcome to ask questions.  A select number of students were surprised with meet and greet tickets underneath their seats.  
Social Media and Marketing chair of the culture, art and film committee, Hunter Midgett, said this event had been in the works for a while.
"I think the event went very well," Midgett said. "Todrick's performance was energy-filled and fabulous," she said. "The audience enjoyed seeing him and there was even a frantic rush after the show as people desperately searched for a meet and greet pass taped underneath the chairs."
Hall is also set to appear as a judge on the forthcoming season of RuPaul's Drag Race.