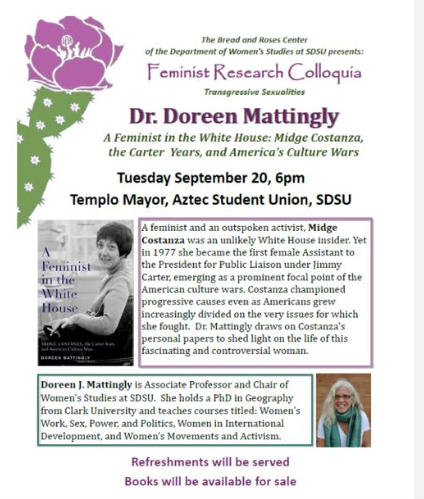 Each month, the Bread and Roses Center of the department of women's studies at San Diego State hosts a Feminist Research Colloquium. The program invites researchers, activists and faculty to discuss research aimed at encouraging students and supporting the women's movement.
Doreen Mattingly, associate professor and chair of women's studies was the first to speak at this month's event held Sept. 20 in the Templo Mayor suite at the Conrad Prebys Aztec Student Union.
Mattingly, who holds a doctorate in geography from Clark University, discussed topics in her newly published book "A Feminist in the White House: Midge Costanza, the Carter Years, and America's Culture Wars."
Her book details the life of Midge Costanza, who became the first female assistant and public liaison to a president when Jimmy Carter appointed her in 1977.
Constanza was a progressive social and political activist. Although she had no education, she gained notoriety and a political base for her outspokenness on progressive, and also controversial, issues of the time. She continually fought for equal rights for the LGBTQ community and all women during her time at the White House and after she resigned in 1978.
Mattingly and Costanza first met in 2004 when they taught a sex, power and politics course together at SDSU.
"One of my first impressions was that she was a force of nature," Mattingly said. "She definitely made me much more interested in politics."
Costanza decided to write a book based on her time at the White House and her political achievements.
"She really wanted to inspire the younger generation of voters," Mattingly said.
Costanza asked Mattingly to assist writing her book by helping sort through her White House papers. Before finishing the book, Costanza died in 2010. Mattingly told Constanza that she would finish her story for her.
Mattingly finished the work that her friend had begun six years earlier.
"The dilemma I had was writing about a friend," Mattingly said. "Emotionally the hardest part was balancing scholarly rigor with a feeling of friendship and caring about a person.
One of Mattingly's goals is to ensure that women's history is preserved. She hopes that by teaching Constanza's story to her students that they will understand how important it is to study women's history so that the lives of so many great influential women are not forgotten.
"I've taken a lot of classes with Mattingly and she's always gotten me really interested in making a change," said Megan Blair, an international security and conflict resolution major who attended the event. "I think that people like Midge are really good inspirations to fight for what you want."
Costanza's story is one that will not be forgotten thanks to Mattingly's dedication to finish telling it to the world and the new generation of young voters who may be skeptical about how significant their parts are in government.