Tasty Tuesday: The Milk Bar combines cereal and ice cream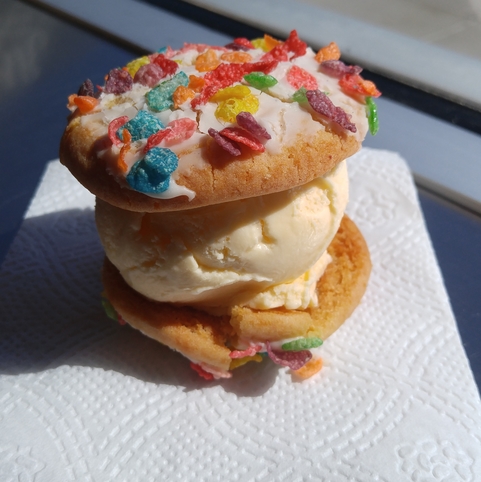 Cereal-infused milkshakes. It sounds like an idea that was born in the mind of a kid that was left home alone to eat whatever wild concoction he could think of.
In fact, I'm disappointed that I never thought of it myself. The Milk Bar in North Park makes breakfast cereal flavored milk and milkshakes. It also bakes fresh cookies topped with various cereals and the best part is you can use these cookies to create an ice cream sandwich.
This hole-in-the-wall ice cream place has a wide variety of milkshakes to choose from. Most are based off of children's breakfast cereals, but some are even more creative, such as Nutella, animal cracker and Pumpkin Spice Oreo.
The Milk Bar features 32 different cereal milkshakes, so you are bound to find one that will leave your inner kid squealing with joy. It even has different specialty shakes available each day, so there's almost always something new to try.
"I was determined to try something different today, but I just love cinnamon rolls so much," computer science junior Brittany Saunders said. "The Big Texas Cinnamon Roll shake is my go-to."
The bar also makes its own cereal-flavored milk and carries milk stout, which are for sale in a fridge by the counter. These drinks would pair perfectly with the cookies that are baked fresh here everyday or you could stock up on flavored milk to enjoy in the comfort of your own home.
Despite all the sugary goodness The Milk Bar has going for it, it falls short when it comes to ambiance. Posters of celebrities with milk-related versions of their famous quotes line the back wall, but other than that the bar lacks much character.
It is empty except for a small counter to eat at, the fridge of milk and the bar where the cookies are displayed. There is not much room inside or space to eat your food. However, it is connected to StreetCar Merchants where there is much more seating both inside and out.
The Milk Bar's creative treats make it a hidden gem in North Park that is worth checking out.
"I've been wanting to come here for such a long time," North Park resident Cassandra Torrez said. "I mean cereal and ice cream, what kind of combination is that?"
Even though the wait time wasn't the best, Torrez said her Andes Mint milkshake was delicious and she would definitely come back to try more flavors.
If you're looking for a place that will satisfy both your sweet tooth and your love for breakfast, The Milk Bar is the place to go.