Former hitman shares new wisdom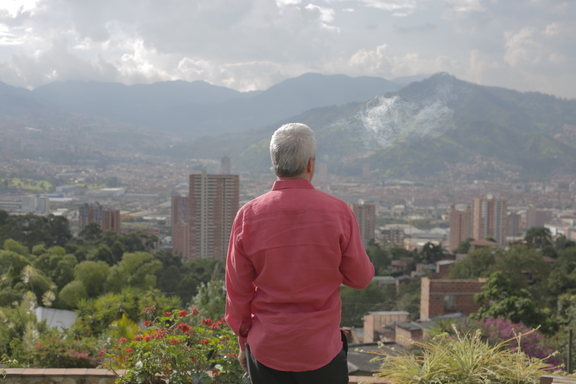 In the early 1990s Medellín, Colombia was considered the most dangerous city in the world. In those days, Jhon Jairo "Popeye" Velásquez was regarded as Pablo Escobar's highest-ranking hitman– which also made him a target.
Escobar ended up being killed, like most of the members of the Medellín Cartel.
Popeye outlived his boss, but served more than 23 years in some of Colombia's toughest prisons.
Two years ago he was released from the penitentiary and is now a legend in the narco-world.
In January I was informed of the possibility of interviewing Velásquez since the music group Fuerza de Tijuana was arranging to travel to Medellín to record a music video for a song they had written about Popeye.
The meeting was delayed for more than six months. I felt that this journey was not going to take place and that I would fail to take advantage of such an opportunity. 
But in August it all changed and the trip was finally happening. Though I was no stranger to "Medallo," as Colombians call Medellín, my experience was different from anything I had previously observed in Colombia.
Conscious of the harm he caused people in this city and throughout this country I was stunned when Velásquez visited the producers and I in our hotel. Reporting has its dangers and this would be no exception.
When we spoke, he was not reluctant but just the opposite. Velásquez wanted to talk.
He acted like an ordinary person and the hotel staff didn't seem to mind his presence.
Knowing that we would shoot scenes in high-risk areas of the city, where he could have rivals from his time as a cartel member increased my adrenaline. It was inexplicable how someone who personally killed hundreds of people and orchestrated thousands of murders could just walk in the streets unescorted.
This baffled me. But this experience was just starting.
The following day we met in a country ranch, where I first met the music group who had just arrived on Colombian soil.
The gathering started with Fuerza de Tijuana playing their song live, which talks about how at 17, Velásquez learned how to kill under Escobar's orders. The song also explores redemption, now that he served his sentence and is trying to be reintegrated into society.
After hearing his ballad he said he was  pleased with how his life has changed and felt privileged that a group from Mexico had taken the time to write a song about him.
"I have more than 160,000 subscribers on my YouTube page and more than 12 million views on my page," Velásquez said. "Forty percent of the views come from Mexico. I also know the Tijuana and San Diego region since I was there about 28 years ago when I was deported to Colombia."
Velásquez said he wants this video to show how terrible the war on drugs was for Colombia. Good or bad he knows people will talk about this video since more than 50,000 people died as a result of the warfare between the Medellín cartel and the state of Colombia.
"Popeye" announced to me that his own Netflix series is on its way, and that he is working on selling his story so that they produce a Hollywood movie.
"I was an actor of violence," he said. "I violated people's rights and today I am a defendant of human rights. I want to go into Colombian politics because I don't want this country to become a socialist nation like Venezuela."
The country is currently facing turmoil because of Las Fuerzas Armadas Revolucionarias de Colombia and the peace negotiations with the Colombian government.
Velásquez said he fears the FARC will bring a communist government, as they would gain political power by buying fraudulent elections throughout Colombia.
This treaty was signed Monday, Sept. 26 in Cartagena, Colombia. However, voters will have a final decision to vote yes or no on October 2.
"I think I'll be a good politician since I am no longer ambitious," Velásquez said. "A politician without ambition is a public servant who is not corrupt. I'm having a second opportunity in society."
We then traveled to the Barrio Pablo Escobar, sharing motorcycles with the protectors of the neighborhood. As I looked around, I could see how many people were watchful of our presence.
Arriving at that neighborhood was staggering. The murals with Escobar's face reminded us of the impact that he continues to have on the low-income community of Medellín.
Velásquez' final teaching was that crime doesn't pay or lead to anything good.
"I encourage people to visit Medellín since there are many things to see and enjoy," he said. "Medellín is not only about mafia tourism."