'Blood at the Root' examines racial injustice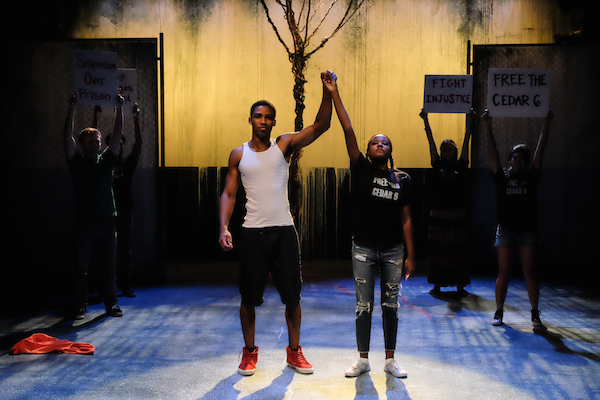 "Southern trees bear strange fruit, blood on the leaves and blood at the root."
A poem written in protest of lynching African-Americans was a catalyst for movements against racism and is the inspiration behind the San Diego State School of Theater, Television and Film's latest play. 
After seeing a photograph of a lynching, Abel Meeropol's wrote "Strange Fruit" in 1937, as a protest against inhumanity. The poem later inspired a popular song of the same name sung by Billie Holiday.
Written by Dominique Morisseau and directed by Randy Reinholz, "Blood at the Root" is a play that tells the true story behind the Jena Six. In 2006, an incident occurred on Jena High School's campus in central Louisiana. After three nooses were strung from a tree in the school's courtyard, racial tension continued to rise.
A later incident at Jena High resulted in six black students being convicted in the beating of a white student.They were put on trial for attempted murder. This incident is often referred to as an example of the current racial injustice in the U.S.
A group of students were fed up and decided to take action.
A variety of events are planned during the run of the "Blood at the Root" production intended to engage discussion between the cast and audience.
A pre-show panel, scheduled for 6 p.m. on Oct. 5, will feature a National Conflict Resolution Center counselor, spoken word artist Kendrick Dial, SDSU Africana Studies lecturer Bonnie Reddick and SDSU's Chief Diversity Officer Aaron Bruce.
Seventy members from the One SDSU Community, will attend the show and participate in a post-show dialogue Oct. 6.
In addition, a group from the SDSU Africana Studies department will engage in a post-performance discussion with the cast and director Oct. 7. All audience members are welcome to stay for post-performance conversations.
"Blood at the Root" runs Oct. 1 through Oct. 9. in the Experimental Theatre.
Tickets range from $15 to $17 and the production is rated R for strong language and adult themes.
On an exceptionally hot day, Raylynn decided to sit under a shaded tree. Little did she know that this tree had only ever shaded white students. This event prompted a prank in which three nooses were strung from the tree. Raylynn, along with others, were frustrated with the way they were being treated, and decided to stand up for their rights.
"Blood at the Root" is a character- driven play. Characters include Raylynn's loyal, yet feisty best friend Asha. The passionate and fast-talking student journalist, Toria, provided an interesting perspective on the objectivity of the media.
The small cast allowed for a provocative and personal experience that is easy to follow as a viewer. Audience members were able to learn about the characters through the storyline, but also their anecdotal monologues.
Throughout various instances in the production, the cast would begin speaking in spoken word pieces. These pieces were performed as an ensemble and individually.
Perhaps the most memorable, and powerful, monologue came from Raylynn's younger brother, De'Andre. De'Andre was involved in the altercation between students, and in turn, was sent to jail.
He appears to be a tough football player, but audiences were able to live through the emotional breakdown he experienced while in jail.
The audience could feel the passion and pain in his emotion, and his thunderous screams sent shivers down everyone's spines.
Rather than focusing on the crimes committed, "Blood at the Root" focuses on the overall message of fair justice.
"I think the issues in this play are really relevant," said business entrepreneurship senior Victoria Haisley.
The story in this production is meant to question the status quo and what normal really is.
Topics involving race, injustice and sexuality are spread throughout the entire production.
"I liked the message," public health senior Valerie Sanchez said. "It's really valid with what's happening now."
The minimal set, ambient stage lighting and throwback music provided audiences with an entertaining, and compelling performance. "Blood at the Root" provided societal commentary for viewers to digest.
As the character Raylynn said in the final minutes of the play, "Yesterday is gone, today is here, tomorrow is coming."