The Julie Ruin fires-up the crowd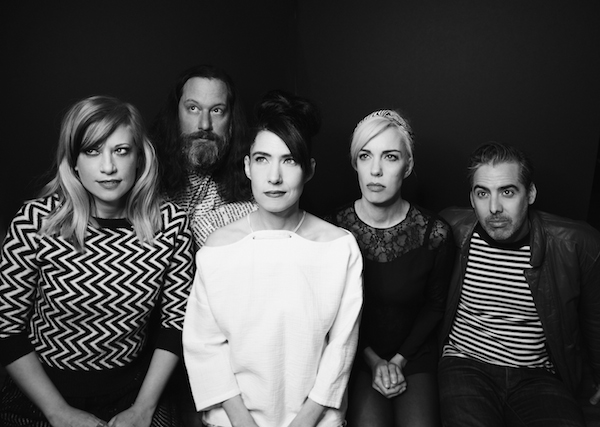 The Julie Ruin took the stage at the Music Box San Diego Oct. 16 with a performance that combined front woman Kathleen Hanna's pioneered riot grrrl punk with tokens of experience from her past, leaving the crowd equally fired up and inspired.
The Julie Ruin's latest album "Hit Reset" was released July 8, and the band has since been touring in promotion. The San Diego show was The Julie Ruin's last until Nov. 10, when it begins the European leg of its tour, so obviously it had to go out with a bang.
The band greeted the audience with a performance of "I Decide" interspersed with Hanna's unabashed dancing, a recurring visual throughout the night. Her moves served as a physical encouragement for the crowd to let loose and move along with her.   
The band got into its groove right from the get-go, following "I Decide" with a performance of "I'm Done" as snarky and angry as it is on the record. 
"I hear your opinion all the time now," Hanna sang. "Sitting in an old chair leaning on the bed, writing dumb comments on an Internet thread."
However, Hanna's tales and life lessons she shared with the audience between songs were just as compelling as the actual performances. She brought up how she had recently watched videos regarding Donald Trump's controversial behavior with his daughter, and how she was treated similarly by her own father.
"I can stand here and say that my dad is a terrible person even though I am his biological offspring," Hanna said. "I finally don't have to fear that he'll be able to find me. Finally, at 47-years-old."
She went on to discuss how victims of abuse often have to pretend everything is okay, because abuse is all they have ever known. The claim was met with vast agreement from the crowd.
"Just seeing (Hanna) use her platform to voice opinions against abuse was inspiring as ever," said San Diego State alumnus Ryo Miyauchi. "It's one thing to have fun at a show and see your hero play, but it's another to go home inspired."
While on the subject of abuse, the band segued into "Hit Reset's" title track, a song inspired by Hanna's relationship with her father.
"I want to dedicate this song to all the women and men who've experienced abuse and are dealing with it however they want," Hanna said.
Throughout the night, the band appeared extremely personable, especially with the banter between Hanna and keyboardist Kenny Mellman. Mellman often expressed his admiration of Hanna, repeatedly saying she wrote some of the best music of the 1990s.
Hanna and Mellman also humorously discussed their differing opinions on Julia Roberts, with Hanna expressing her disdain for the way "Pretty Woman" depicts prostitution.
The powerhouse performances continued, featuring throwback "Apt. #5" and a surprising cover of Courtney Barnett's "Pedestrian at Best," followed by the band members' high praise of Barnett's music.
The Julie Ruin returned to playing tracks from "Hit Reset" with "Rather Not," with the bluntly honest chorus begging to be sung along to.
"I wish I'd never met you, I want you just to go," Hanna sang. "And if you really love me, I guess I'd really rather not know."
Prior to performing "Mr. So and So," Hanna described her experiences with tokenism and how they inspired her to write the song.
"I don't want to spend the rest of my life being invited to places to talk about sexism in the music industry just so someone can give themselves a pat on the back for including me," she said.
The Julie Ruin exited the stage after performing "Oh Come On," a track off its 2013 album "Run Fast," but the fans refused to let the night end.
The band encored with "Rebel Girl," Hanna's most iconic punk masterpiece originally performed by her band Bikini Kill, ending the night with her always empowering feminist punk that makes all of her songs anthems.