Tasty Tuesday: Breakfast Republic balances the fresh and familiar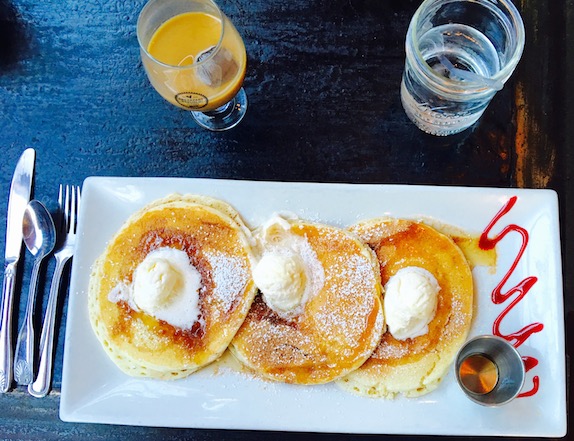 Balancing the fresh and the familiar, Breakfast Republic offers a unique take on staple dishes of the most important meal of the day.
On a Sunday morning in the vibrant North Park neighborhood, Breakfast Republic's cherry red-trimmed patio is swarmed with excited voices and empty stomachs.
Founded by Swedish transplant, Johan Engman, Breakfast Republic is an American breakfast restaurant serving up a wide array of home-style meals ranging from benedicts and omelets to chicken bowls for moderate prices. The majority of entrees range between $8 and $20.
For those lucky enough to be over the age of 21, the menu also boasts a multitude of beers and specialty drinks.
Though I could not order these and therefore cannot vouch for their taste, the apple pie mimosas a table away appeared appetizing. However, the menu really shines when it comes to these dishes' "carb-y" counterparts.
The pancake and French toast options are as eclectic as they are mouthwatering: s'mores French toast, banana-split French toast, Oreo pancakes, mint chocolate chip pancakes and pineapple upside down pancakes, to name a few.
After much consideration and internal conflict, I decided upon the Churro Pancakes. For those who just cannot seem to decide however, Breakfast Republic offers a flight of any three pancakes or any three French Toasts for a few extra dollars.
Boom. Your first world problem is solved.
No breakfast is complete without caffeine so I paired my pancakes with the salted-caramel mocha. Though presented in clean and adorable fashion, I felt the drink to be basic and not containing nearly enough of the caramel flavor that my saccharine taste buds require.
My churro pancakes did not disappoint. In fact, they were pretty incredible.
Fluffy and golden with melt-in-your-mouth texture, these pancakes had all the cinnamon-sugary goodness of a Disneyland churro, a high praise indeed. The generous helpings of syrup and butter along with the drizzle of strawberry sauce on the side were perfect complements.
Engineering sophomore Nikolette, Mazzuola enjoyed "The American," complete with eggs, sausage, house potatoes and wheat toast.
"For ordering a not very extravagant dish, I thought that it was an exceptional version of something that's usually pretty standard," Mazzuola said.
Kinesiology sophomore said she was also impressed with her meal.
"I had the cinnamon roll pancakes," she said. "The portion size was very nice, with not too much, and not too little. I wish there was more of the icing on top, but on the other hand, having less icing also made me feel like it was slightly healthier!"
However, the experience wasn't all sunshine, rainbows and cinnamon roll pancakes. The service was not ideal. While I suppose a somewhat slow rate of service is to be expected of such a busy establishment, I found the servers and hosts to be quite cold. This was in stark contrast to the otherwise upbeat mood of this quirkily and colorfully decorated restaurant.
In fact, the restaurant's aesthetic is also a noteworthy attribute of Breakfast Republic. The décor is vibrant yet earthy, with many cheeky accents such as a sign featuring America's sweetheart, Christopher Walken.
The outdoor bar and abundance of four-legged friends on the patio contribute to a fun atmosphere.
As I noted earlier, Breakfast Republic is busy on the weekends which makes parking tough as well. There is limited street parking so you inevitably must scour the surrounding neighborhood for a spot, praying for Jesus to take the wheel as you parallel-park your vehicle.
If you find yourself on the west side of town, there is also a Breakfast Republic located in Liberty Station and with three new locations coming soon to Carmel Valley, Encinitas, and East Village, many more San Diegans will have access to this top-tier breakfast joint.