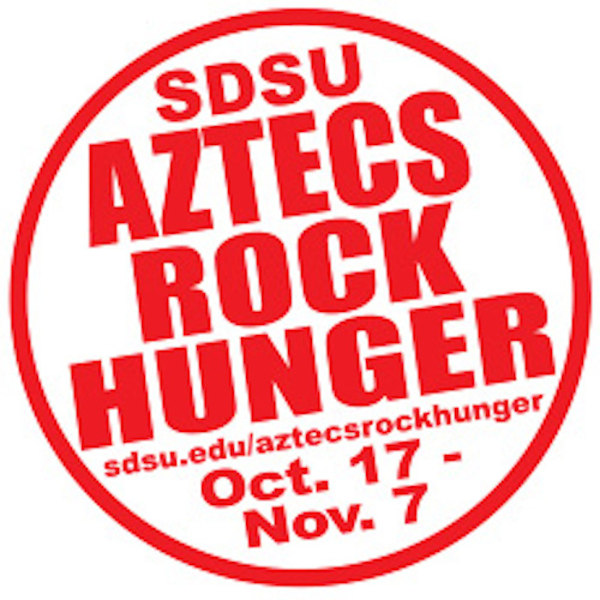 The fall season is known for falling leaves, colder temperatures and pumpkin spice lattes.
But at food banks across the country, the fall season means Hunger Awareness month.
During the month of October, Associated Students and the Jacobs and Cushman San Diego Food Bank teamed up to overcome hunger throughout San Diego County.
From October through Nov. 7, students can donate in order to help those in need. According to the Associated Students website, 15 percent of San Diegans face "food insecurity," which means that little or no food is available at home.
There are five ways students can donate, the first being donating off of a meal plan. One dollar buys six pounds of food or fresh produce.
Other ways to donate include making a monetary donation online, donating to Aztec proud, attending the next football game and donating there, or by placing non-perishable food into the large red bins throughout campus.
This fundraiser not only helps San Diego residents but 20 percent of donations go toward helping students on campus receive meal plans who could not previously afford them.
In the spirit of giving, this is a fantastic way for students to give back to the community of San Diego. In previous years San Diego State has collected over 300,000 pounds of food for the bank. Students are able to donate amounts of 50 cents and higher.
"Aztecs Rock Hunger excites me for the holiday season and the gift of giving," business freshman Sam Jakubowski said. "It is a really cool way for all students to be involved in charity."
Many organizations throughout campus are also getting involved. The Greek community is hosting an annual competition rewarding the house with the most donations.
Carmel Alon, an international security and conflict resolution junior, emphasized other ways for students to help beyond donating money or food.
"(Students can) help table with Aztecs Rock Hunger," she said. "There are so many volunteer opportunities and we can never have too much help."
Alon also said spreading the word to friends and family is always a great way to get more people involved. This year the goal for Aztecs Rock Hunger is 400,000 pounds of food.
Beyond Aztecs Rock Hunger, there are many other ways students can help the Jacobs and Cushman food bank including hosting a food drive, dropping off food or volunteering at their local shelters.
Students can drop off food Monday through Thursday between 1 p.m. and 4 p.m.
While volunteering at local shelters, students can clean and package fresh produce for immediate distribution, inspect, sort, box and label food donations and assemble food packages for special programs.
Jacobs and Cushman have collected 22 million pounds of food equaling 18.3 meals this year alone.
Hunger is an issue that affects many students and families within the San Diego community.
"Twenty percent of donations go to the Economic Crisis Response Team, which helps students with food insecurities," Alon said.
Next time the cashier at the Aztec Market tells you that you have one dollar left on your meal plan, instead of spending it on a piece of fruit that you'll probably never touch, consider donating that leftover money to give six pounds of food to someone in need.
Who knows? You could be helping the student sitting next to you.