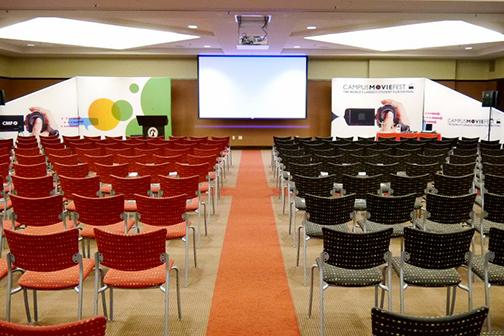 Campus Movie Fest is the world's largest student film festival that gives students everywhere the opportunity to create and produce their own short films.
This year, CMF made its way back to San Diego State.
The shorts were showcased on Oct. 27 in the theater of Conrad Presbys Aztec Student Union.
The Culture, Arts, and Films committee of the Aztec Student Union Board worked to bring this festival back to campus for its ninth year.
Student teams were given professional movie equipment and a week to produce a short film that was five minutes or less.
This year, over 60 student teams created their own shorts. The top 16 shorts were picked and screened at the finale of the festival. The teams did not know which of the films were chosen to be screened.
Some shorts were comical, some were creepy, and some explored more serious issues in a creative and innovative way.
All were nothing short of a compelling creation that showcased the maker's unique ideas and viewpoints.
David Rakietan, ASUB programming assistant and Mac Capen, the video manager of Campus Movie Fest, were the hosts of the night's event.
The shorts were screened in sets of four.
During intermissions between screenings, the hosts picked winners for raffle ticket drawings and held various Twitter hashtag contests and a Halloween costume contest.
Capen has been working for the program for two years and is still amazed by the work put into each student film.
"I travel a lot because it's a year-long worldwide festival," said Capen. "I thought this year's movies (at SDSU) were phenomenal."
Four students from Emory University started the festival in 2001. They began lending Apple computers and camcorders to students and allowing them a week to create their own shorts and providing at outlet to showcase those creations.
Fifteen years later, the festival has reached over one million students from across the globe, bringing even more diverse stories into the spotlight and giving the next generation of filmmakers a chance to tell their stories through film. At the end of the film screenings, the final awards were given out to the best shorts.
Chelsea Best, a theatre, television and film major, produced "Purgatory," a stunning creation that won the Jury Award, the Silver Tripod Award for best cinematography, and the Silver Tripod Award for best performance.
"It was an awesome experience and I had a great time," said Best. "CFM is awesome. I just love how it brings everyone together, even non-film majors. It gives them the opportunity to make films like this."
The festival allows not just film majors, but all students interested in film as a creative outlet the chance and the resources to bring their stories and viewpoints to cinematic life.
With the growing popularity of this program, Campus Move Fest is likely to return to SDSU next year and provide another opportunity for students to tell their stories.