Tasty Tuesday: Kono's Cafe offers a taste of Pacific Beach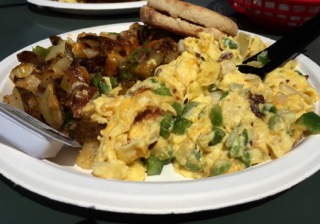 Pacific Beach is the perfect place for San Diego State students to relax and have a good time. Kono's Surf Club Cafe, located on the coastline of Pacific Beach, attracts enormous amounts of customers everyday. Don't be fooled by the long line that runs out the door. Service is a quick wait, order, and receive process that never grows old. With surfboards on its logo, Kono's doesn't forget to incorporate the cool San Diego surfer vibe. Not only does Kono's win with the bold, calm beach vibe, but also with the beyond doubtful delicious food.
Kono's is known for their breakfast that they have been serving all day since 1991. Breakfast and lunch have plenty of options that appeal to any cravings and large appetites. Between egg scrambles, breakfast burritos, breakfast sandwiches and cheeseburgers, be prepared to walk away completely satisfied. I ordered the egg scramble, one of the most popular items, and it was like nothing I have ever had before. Simple, flavorful and perfect are three words to describe the egg scramble. Served with large (Kono's) potatoes and a bread of your choice, it was plenty to share with a friend.
"Kono's is a great cheap classic American eatery for those who want a filling meal and an awesome view," sophomore international business student Kara Jacobson said. "What's better than brunch beachside?"
Prices for dishes range from $4.95 for a breakfast sandwich to $8.95 for a big breakfast meal. The egg scramble is also something everyone has to try and is priced just below the big breakfast meal at $7.50.
The friendly and caring staff is also to credit towards Kono's growing success. Although phone orders are not accepted and parking can sometimes be a hassle, it is completely worth it to not miss out on the real Kono's experience. The fun and appealing vibe is the perfect place for locals, tourists and students to all gather to get a taste of San Diego.
Kono's has recently expanded and has opened a new location, Konitos Cafe, just a mile eastward and a 20-minute walk away. Konitos serves the same menu options, just at a new convenient location for customers not planning to make a trip to the beach. By expanding and opening a new location, Kono's continues to spread its outstanding reputation of great food and service, but most importantly its beach vibe.
Kono's convenient beachside location leaves customers wanting to come back after just a few short days to enjoy the sunshine and breakfast. Kono's popularity is at an all-time high, and soon newcomers will be considered regulars.
Kono's is open on the weekdays from 7 a.m to 3 p.m. and weekends from 7 a.m. to 4 p.m. Don't forget to swing by, grab your food and go enjoy it right on the beach.