Aztecs travel the world over winter break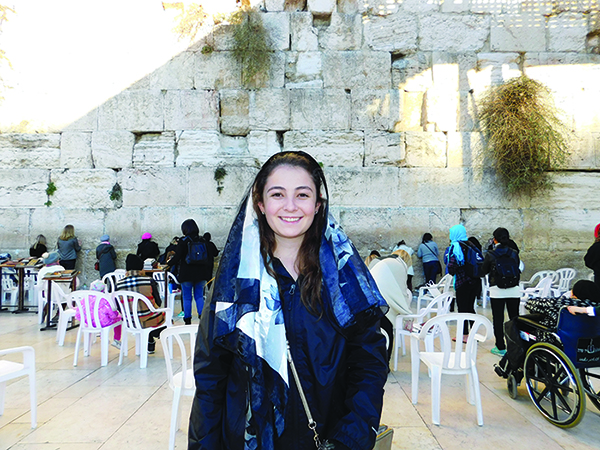 As many college graduates can attest to, having a long winter break is a luxury that ceases to exist in "the real world." Several SDSU students took advantage of this year's winter break by traveling to far-flung destinations including Israel and Costa Rica.
Political science and international security & conflict resolution senior Erin Gonzalez spent some time in Israel, with a Fact Finders program hosted by SDSU Hillel. She said the goal of the trip is to allow SDSU students to personally experience Israel and learn about the Palestinian Authority and the Israeli-Palestinian Conflict.
"We met with various government officials, grassroots activists, and average citizens from both sides of the conflict who shared their personal narratives with us," she explained. "Their narratives helped me and my fellow students to come to our own conclusions and form our own perspectives about Israel, the Palestine Authority, and the conflict."
She said there were several things that surprised her. Before visiting, she believed she was entering something akin to "an 'apartheid state'" but soon after landing she found religious, cultural, and ethnic diversity.
The trip also changed some of her opinions.
"Another thing that surprised me about Israel is how my perspective on the Israeli settlements in the West Bank completely changed," she said. "Although the global community, and recently the United Nations have condemned the Israeli settlements as both internationally illegal and an impediment to peace, I no longer see it that way."
Gonzalez said her group visited various settlements throughout the West Bank and she was surprised to see how many Palestinians she saw benefitting from aspects of the settlements, including employment opportunities and social benefits.
"Throughout the entirety of our trip we encountered so many people, both Israeli and Palestinian, who were so genuinely grateful to us for visiting their homelands," she said. "Their gratitude was largely for us taking the time to experience their cultures and lifestyles, and not being afraid to enter the world that they live in."
Across the globe, mechanical engineering senior Shelby Pfeifer spent nearly two weeks exploring the west coast of Costa Rica, including Tamarindo, La Fortuna, Monteverde, Santa Teresa, Montezuma, Nosara, Sámara, Bijagua, Arenal and Liberia. She began her journey at the Desert Hearts Festival in Guanacaste with two friends, and later hit the road for a solo adventure.
Though the journey wasn't always easy — her rental car got two flat tires almost simultaneously, she was sick for part of the trip, and she had to make a visit to a medical clinic for an eye condition — she said people in Costa Rica were very helpful and kind.
"Ticos are very friendly people," she said. "It is common to great people as you pass by them on the street with a 'Hola' or 'Pura vida'. This was a little bit of a culture shock coming from California where people barely make eye contact when the walk past each other."
Pfeifer said one of her favorite parts of the trips was horseback riding on the beach.
"I used to ride horses a lot growing up and it was amazing being able do it again in such a gorgeous location … although it was without a helmet or liability waiver," she said. 
Both Pfeifer and Gonzalez had advice for those considering similar trips.
"My advice is to be 100 percent open minded about what you are going to experience," Gonzalez said. 
"There are so many incredible nuances that make up the 'whole picture' of this society and you must be open minded in order to fully experience and understand them," she said.
She also emphasized that it is important to do your research before visiting, especially when it comes to religious customs.
Pfeifer said she would tell people to stay in hostels when possible.
"They are a great way to meet people and learn about cool activities," she said.
While staying at a hostel, she dropped in on a yoga class and was able to meet other travelers.
Additionally, hostels can be a budget-friendly option for students. Of Costa Rica in particular, she said "The road conditions are poor and you may find yourself crossing shallow rivers in order to get to your destination, so if you're renting a car, get a 4×4 with decent clearance."
Traveling over breaks can be a good option for students who cannot study abroad for long periods of time due to financial or academic concerns. In addition to semester and year-long study abroad programs, SDSU offers shorter-term programs during winter, summer, and spring breaks. For more information, visit the International Student Center at SDSU.