SDSU faculty join San Diego Women's March
Adriana Heldiz and Mackenzie Boss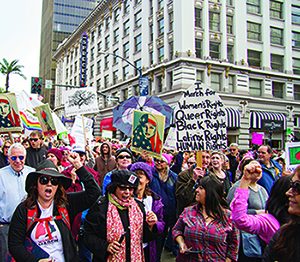 As more than 30,000 San Diego community members marched downtown in pink pussy hats and signs that yielded "A woman's place is in the resistance" and "Love trumps hate," San Diego State students and faculty joined in solidarity at the Women's March on Jan. 21.
Lisa Baker, political science senior, was one face in the crowd that in addition to women's rights, marched to fight for immigrants, healthcare, climate change, the LGBTQ community and civil rights.
"I'm looking for necessarily healthcare rights," she said. "My mom is really sick right now. I really was supportive of the affordable care act, but now that Trump has taken off and shown a lot of disdain for that it's been really hard to keep positive so it's exciting to be out here and march for her."
Baker said she created a group text with 20 of her friends "who invited their friends, and invited their friends" and organized meeting stops to plan for the march Saturday morning.
"I'm really excited to be down here," Baker said. "We've been planning this for a while. We made signs, got all of our friends together from all different departments. We're all students just looking to protest and show our support for each other."
Post-secondary educational leadership graduate student Brianna Hogan said she attended the Women's March in San Diego for the oppressed: students, women and minorities.
"It feels very empowering to be here. It's been an emotional day," she said. "It's been an emotional campaign and emotional election, and I'm here to give a voice to the people that need it."
Vanessa Nguyen, president of Planned Parenthood Generation Action, joined three board members and a couple members from the organization at the march.
"Since the election, it's been really important to stay adamant and vigilant and just for awareness really," Nguyen said. "It was just a very historic moment and very important for me to be there."
"It makes me sad to see that Trump actually has placed the executive order on banning the US government on giving out funds to help internationally on abortion rights," she said.
President Trump signed an executive order Monday Jan. 23 reinstating the Mexico City Policy, which bans non-profit organizations that perform or support abortion internationally from receiving funding from the U.S.
"It is very scary to know that he is actually doing something, but I'm very hopeful that everyone who supports us is going to come together and not let him defund us in the state," Nguyen said.
Women's studies professor Huma Ahmed-Ghosh spoke to the crowd on Saturday encouraging marchers to continue to resist after the march.
"We should use this march not only to protest the new politics that may emerge in the USA but also to regroup, restrategize and renergize the feminist movement to get a better understanding about how to embed social justice as a core national value," she said in her speech.
The Women's Studies department sent out an email to majors and minor with information about the march a day prior to the event.
Irene Lara, women's studies professor said most of the women's studies faculty attended. the San Diego March or marches in Washington D.C. or LA.
"For me, the March was about continuing to build community across our commonalities and differences and to sustain the heart-led and mind-led lifework ahead of us," Irene Lara, women's studies professor, said in an email.
The department held a banner and sign creation a day prior to the march, and welcomed students to gather in front of the Civic Center to march together.
The march was held a day after the inauguration of President Donald Trump.
"I cried (when watching the inauguration.) I didn't know I would be that emotional," Hogan said. "I'm not happy with the results of the election, obviously and it just feels wrong that someone that's representing our country is so hateful.
Graduate student Haley Lomax said the Women's March was a wake-up call, and that too many people have been oppressed by President Trump's rhetoric.
"This has been a positive day to come out as a San Diego community and stand together and show that we have a lot of work and this is just day one," she said. "I'm glad to have done it with my grad program and as future educators, this is where we stand and we're going to do it together."
Post-secondary education leadership graduate student Emmeline Domingo said she decided to attend the march to be part of the resistance movement.
She said the ultimate goal is to show Donald Trump and everyone who supports him it is not okay to take away rights that have been fought for.
"I'm simultaneously angry and happy," Domingo said. "I feel like I'm mourning, but at the same time, I feel hope because of all the people that are showing up and in this together."
Sophomore liberal studies and member of College Democrats Ella Holton-McCoy said as a woman, she felt it was partially her responsibility to attend the march.
"Being surrounded by so many positive people, all fighting for the same thing, was really inspiring and uplifting," Holton-McCoy said. "It was men, women, children, an extremely diverse community. It was definitely empowering."
The Women's March was held on Saturday in many cities around the world, including San Francisco, New York City and Los Angeles.
SDSU Department of Women's Studies chair Doreen Mattingly attended the march in Washington D.C. She said as soon as she saw the announcement about it on her Facebook feed, she knew she had to be there.
"I just knew it was going to be historic," Mattingly said. "I was so distraught with the election, and for me, being active is the way to turn unhappiness into change."
She said every time she passed a street in D.C. while marching, there was another couple thousand people.
"It didn't end. It went on and on and on," she said. "It was so affirming."
Mattingly said the crowd was very diverse, and she was surprised at how peaceful the march was.
"The march and the speakers were phenomenally diverse and really talking about not just women's issues but their connection with civil rights, with LGBTQ and environmental issues," she said. "People were just from everywhere."
The Women's March ended in front of the County Administration Building where marchers chanted "Whose country? Our country!"
"There's people of all ages, all colors, all different backgrounds so it's really nice to just gather together," Baker said. "It's been such a loving environment to be a part of. It's been so encouraging and it really makes me look forward to the future."
The Women's Studies Department will be hosting "Don't Agonize–Organize! Gender Justice in the Time of Trump," a follow-up event to the Women's March at 7 p.m. on Jan. 26 in the Women's Resource Center.
Correction: This article previously stated "Don't Agonize–Organize! Gender Justice in the Time of Trump" hosted by the Women's Studies Department is on Jan. 27. The event is on Thursday, Jan. 26.