A.S Update: GreenFest, LEED Double Platinum Student Union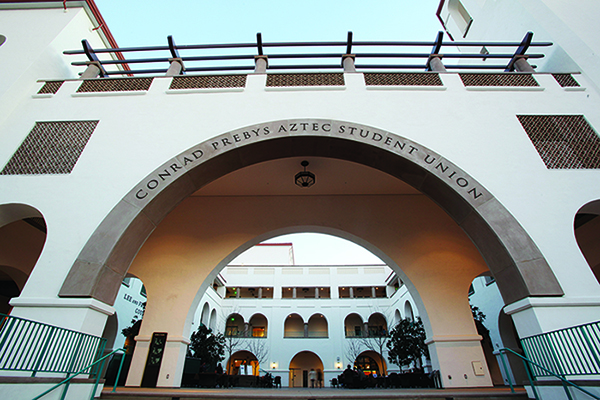 The Associated Students Campus Life Council held its first bi-weekly meeting of the semester on Wednesday Feb. 1. The commissioners discussed the Conrad Prebys Aztec Student Union's LEED double platinum status and upcoming events.
Recreation and Wellness Commission and Community Service Commission
Recreation and Wellness Commission Chair Chris Thomas said the Aztec Recreation Center currently has 16,065 members. Thomas said this is the second highest amount of members the ARC has had in January.
Community Service Commission Chair Meghan Andrade said it is dedicating the month of February to animal shelters in the surrounding community.
Andrade said she is very proud the student union has earned the energy-efficient LEED double platinum status. She said there are less than two dozen facilities like it around the world.
Spring Events
Green Love Commission Chair Shelah Ott said GreenFest will be held Feb. 26 to March 4. She said the artist which will headline the annual concert will be announced Feb. 19 and tickets will go on sale Feb. 20.
Thomas said the ARC is offering a new yoga class called Mindful Meditation on Mondays from 1 to 1:30 p.m.
Aztec Student Union Board Representative Eran Bechor said "Mix it Up" will be held at the Student Union Courtyard from noon to 2 p.m. on Feb. 6.
Bechor said an ASUB information session called "Get the Scoop" will take place Feb. 7-8 in the Aztec Student Union lounge. The event will be at 3:30 p.m. on Feb. 7 and noon on Feb. 8.
Student Diversity Commission Representative Natalie Martinez said "Spring into Diversity," a two-week series sharing the stories of under-represented communities, will take place Feb. 13-16 and Feb. 20-23.
Andrade said there will be a Community Service Fair from 10 a.m. to 2 p.m. on March 7.