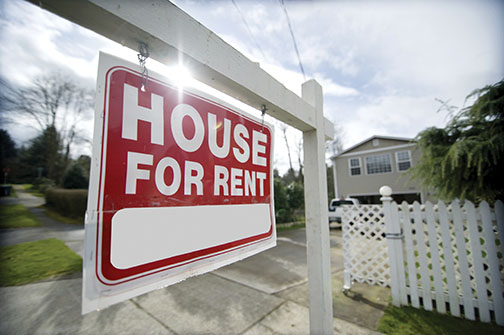 Chemistry senior Jon Bush hasn't lived in a house with fewer than six tenants since his freshman year. His junior year he had a family of rats living in his walls for about a month, and this year he had a rat almost chew through the pantry door in his kitchen.
Students like Bush live in so-called mini-dorms to make housing more affordable despite drawbacks in living conditions.
While there is no official definition, the term "mini-dorm" refers to single-family houses in the area around San Diego State that have been rented out to five or more tenants by the homeowner or a landlord.
College Area residents argue these high-occupancy dwellings lead to problems with overflowing trash cans, reduced street parking and parties — prompting the San Diego City Council to pass two ordinances Nov. 14, 2016 aimed at stemming the growth of mini-dorms in the College Area.
The first ordinance, called the High Occupancy Single Dwelling Unit Ordinance, limits the number of bedrooms a house can have to five for a lot of less than 10,000 square feet and six for a lot of 10,000 square feet or more.
"The (houses) that tend to be the real problems are the ones with eight, nine (or) 10 bedrooms," said 28-year College Area resident Rhea Kuhlman. "The community isn't set up for that kind of density."
The regulations put in place by the ordinance do not affect current houses in the College Area, but prevents the city's Development Services Department from issuing a construction permit to build a house with more than six bedrooms.
Community Assisted Party Program
The San Diego Police Department is also aware of the mini-dorms surrounding SDSU and tracks problem houses with the Community Assisted Party Program.
A residence can receive a CAPP designation if police receive two or more valid noise complaints within 30 days, a citation or arrest is made when officers respond to a call for a noise complaint or five neighbors from separate addresses sign a petition asking for a residence to be considered for the designation, according to SDPD Community Relations Officer John Steffen.
The designation remains in effect for one year, even if there is a change of tenants.
The second ordinance increased the maximum fine for municipal code violations citywide from $2,500 to $10,000 per violation per day. This raise in the maximum fine for municipal code violations does not affect the $1,000 fine per tenant for a Community Assisted Party Program violation because the $1,000 fine is under a separate section of municipal code violations, according to Steffen.
"The CAPP system has been pretty harsh in general," Bush said. "Having an even stricter punishment would be just silly."
Kuhlman said she thinks the CAPP has been effective since it was implemented in 2007 and doesn't think a harsher punishment is necessary.
"Most of the students, in my experience are well-behaved and considerate and good neighbors," she said. "But there are always a few that really create problems in the neighborhood."
San Diego State's involvement
Kuhlman currently serves as the vice chair of the College Area Community Planning Board and the vice chair of the College Area Community Council, which both participate in planning decisions the city makes regarding the College Area.
Kuhlman said Nicole Borunda, the SDSU representative on the College Area Community Planning Board and College Area Community Council, has consistently abstained from voting on measures related to the College Area community.
Borunda abstained from voting on a motion to approve the concept of a College Area Community Character Preservation Ordinance at a July 13, 2016 meeting of the council and planning board, according to the meeting minutes.
"That is SDSU's position: that they don't get involved in what they call municipal issues, but really this is very much an SDSU issue and we would love to have more involvement on the part of the university because this is a joint problem," Kuhlman said.
SDSU's Associate Vice President of Real Estate, Planning and Development Robert Schulz said the mini-dorm problem came from a switch in student demographics.
"I think what's really happened, if you go back 20 plus years, San Diego State was a commuter campus," Schulz said. "Over the last couple decades that has become no longer true. We're now about 65 percent non-local."
These non-local students need someplace to live and the area around campus wasn't designed to withstand the switch from a commuter campus to a residential one, Schulz said.
"I think capacity is the solution, students need to have options and places to live," he said. "In the short term it's a really hard problem to solve because the new stuff we build will not be cheap."
Bush said he didn't see a reason to look at residences outside the College Area when he and his roommates were searching for a place to live.
"Commuting is honestly the main reason (I live in College Area), skating to class and whatnot is real easy and none of the traffic is really annoying around here," Bush said.
Sophomore Success Program and South Campus Plaza
SDSU announced the implementation of a Sophomore Success Program Nov. 30, 2016, which will require all non-local, second-year students to live on campus beginning in fall 2019.
Bush said that while he has enjoyed living off campus the past few years he doesn't miss the process of searching for housing.
"I think it will be good in that there will be some kind of guarantee that people would be able to find housing the semester following their first year because I have had a lot of friends have trouble with that," he said.
Schulz said he is constantly monitoring how much on-campus student housing is needed and it typically takes five or more years to complete a housing project.
"The university has been pretty responsible and responsive I think," he said.
"We are literally investing hundreds of millions of dollars of building student housing so more of our students can live on campus instead of in the surrounding neighborhood so I don't think we are ignoring the issue."
South Campus Plaza, the university's $143 million housing project, opened Jan. 15 and currently houses 600 freshmen that previously lived in Tenochca, which closed for renovations over winter break. SCP also provides 34,000 square feet of retail space, with Trader Joe's, Broken Yolk, Wings-N-Things and Eureka! already confirmed as tenants.
Schulz said he started reaching out to community members in 2012 to see what kind of retail space was needed in the College Area and hopes community members get as much use out of the retail at South Campus Plaza as students do.
Kuhlman said that while she has seen the dynamic of the College Area change in the last decade she has seen students' involvement in the community change too.
"Now there are community clean-ups that SDSU students do. While students came en masse to oppose the ordinances it was good to see them involved," she said.
"It's great to see the students more aware of what is happening in the community and taking some ownership of it."