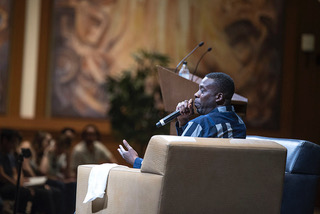 The Beautiful Arts Club and Department of Classics and Humanities hosted an event on April 11 featuring renowned rapper GZA, also known as The Genius or Gary Grice.
The Department of Classics and Humanities invites three lecturers to campus every year through an endowment. GZA was chosen as one of the three lecturers for the 2016-2017 school year. A grant to cover the remainder of the event came from the Student Success Fee.
Grice co-founded the rap group Wu-Tang Clan with his cousins who go by the stage names Ol' Dirty Bastard and RZA. As a solo artist, he has released multiple albums, including "Liquid Swords."
Grice spoke about race, globalization, and hip-hop in American culture to an audience comprised of both San Diego State students and the general public.
"These topics are extremely relevant in this political and social climate," English junior Michael Shannon said.
Beautiful Arts Club Vice President of External Affairs and event coordinator Jamey Ketone said he purposefully made the event open to the public and students.
"We wanted to make this open to the public because we wanted to bridge that gap between community and the academy," Ketone said.
Ketone said he chose Grice because he is someone who can speak about academic topics while being relatable to students.
"I felt like not enough students were engaging in extracurricular academics," Ketone said.
During the event, Grice spoke about how he incorporates science into his rapping and the importance of science for students.
"'Genius' is a tangible manifestation of what we set out to do many years ago which is expressing brilliant universal ideas in artistic ways," Grice said.
Grice said that his schooling did not prioritize science, so rapping was an opportunity for him to combine his art and intellect in a meaningful way.
Grice said science is beneficial for students because it allows them to question what they learn to find a deeper meaning.
"I thought it was valuable to see how vast his knowledge is and how he applies that to the craft of hip-hop," English senior Mick Carreri said.
Grice also discussed the role of hip-hop in race relations. He said that music bridges the gap between foreign lands because there is no language barrier.
"Hip-hop heals racial divides," Grice said. "Music is universal, so race has nothing to do with it."
Grice is currently working on his upcoming album titled "Dark Matter," which he said will incorporate some of the topics discussed during his lecture.