Every weekday his hand hits the alarm at 5 a.m.
He gets dressed, drinks a cup of coffee and makes the one-hour commute from Temecula, California to the 50-year-old concrete giant located on Friars Road. The commute doesn't bother him; it's nothing compared to the drive that got him to San Diego.
In 1983, when he was 24 years old, Bill Gibbs left his hometown of New York City in a beat-up Mercury Comet to come to California and change careers. Gibbs first stopped in Los Angeles, realized he didn't like it there and settled down in San Diego.
After the Chargers decided to move to Los Angeles Jan. 12, Gibbs' job as stadium turf manager at Qualcomm Stadium and the future of the stadium — the place he has called home for the past 32 years — remain in limbo.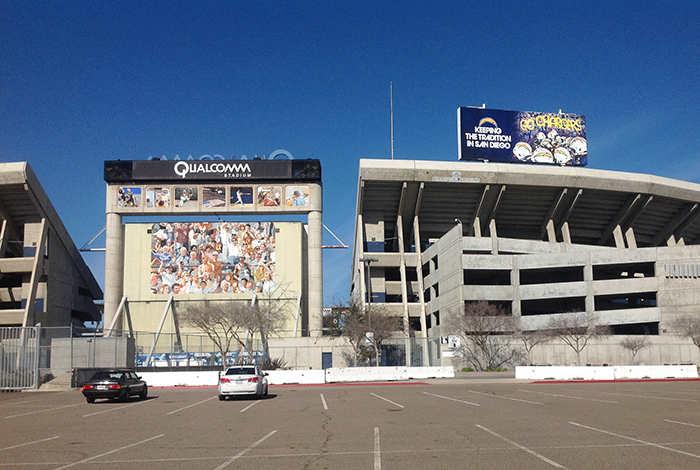 "I listen if there's something written or on the radio or something about (the future of the stadium)," said the 58-year-old Gibbs. "But it's all speculation right now, and everybody who works here is kind of concerned, but there's nothing we can do until we know for sure what is going to happen."
Without the usual 10 games the Chargers play each year at Qualcomm, Gibbs and his staff are left with seven San Diego State football games for the rest of the year. SDSU's lease with Qualcomm Stadium ends after the 2018 football season.
"Right now the Aztecs are their sole rental tenant," said SDSU landscape services manager Joshua Koss, who has worked with Gibbs since 2014. "Both of us are kind of in the dark as to what is going to happen."
        The university has been in negotiations with the San Diego investment firm FS Investors since Spanos' announcement and are deciding between a number of options including demolishing Qualcomm Stadium and replacing it with a 30,000 seat stadium for soccer and college football.
        Bobby Slabe, 62, has worked as a groundskeeper at Qualcomm Stadium since 1991 and has worked with Gibbs for 26 years.
        "I try not to listen too much to (the negotiations) because I know when it comes, it will be the end of my job," Slabe said. "I don't see me worrying about it too much at this point, but I do hope they figure it out for San Diego State. I was very disappointed that the Chargers left."
        Gibbs worked all three Super Bowls held at the stadium in 1988, 1998 and 2003 as well as two MLB all star games held in 1972 and 1992.
Gibbs said his crews would spend long hours together when they had to switch from football to baseball and move stands back and forth.
Qualcomm Stadium is the only stadium to host the Super Bowl and World Series in the same year when it held both events in 1998.
"(Qualcomm Stadium) has changed in the 30 years," Gibbs said. "We had many more events when we had baseball here — when the Padres played here, it was always busy."
The San Diego Padres left Qualcomm in 2004 for their new home at Petco Park after sharing Qualcomm Stadium with the Chargers from 1969 to 2003.
Jeffrey Siniard, 39, is a former contributor for the SB nation Chargers blog Bolts from the Blue and has lived in San Diego since 1978.
"The problem with Qualcomm (stadium) is that it was originally built as a multi-purpose facility — it was built for baseball and football," Siniard said. "To engineer it strictly for football and to give it all the modern amenities that most new stadiums have you would have had to strip it down to its foundation almost and build up from scratch."
Siniard said the last major renovation to the stadium happened 20 years ago.
"Compared to newer buildings it really is a relic," he said. "It has that kind of quaint charm that you get from an older building that maintains its original character and you can't deny the memories aspect of it, but I wouldn't dispute anyone saying that it is (outdated). By every modern standard I can think of it is extremely outdated."
Andy Zlotnick, chairman of the Qualcomm Stadium Advisory Board which advises city staff about stadium operations, said he remembers playing soccer games at the stadium growing up and he used to have season tickets to the Chargers with his cousin.
"I was there in '84 when the Cubs played the Padres in the NLCS," Zlotnick said. "I slept (at the stadium) overnight to get the tickets."
Gibbs has worked at the stadium since 1985 after relocating to San Diego in 1983 and working at Torrey Pines Golf Course for a year.
He graduated from Hofstra University with a bachelor's degree in business management and worked his way through college mowing lawns and doing landscape maintenance. After having trouble finding a job in New York after graduation, he decided to pick up and move across the country.
"I never really wanted to be a supervisor, I just liked doing the hands-on work, and that's why I still do it today," Gibbs said. "I'm still out there working side-by-side with the guys, and I still consider them friends even though I'm supervisor over them."
Koss said he works closely with Gibbs to ensure the field the SDSU football team practices on is as similar as possible to the field at Qualcomm.
"A lot of the people that manage higher profile stadiums such as Qualcomm or Petco or anything along those lines they're kind of protective," Koss said. "A lot of them shut themselves off, but Bill is exactly the opposite of that. He's very welcoming, very laidback."
As negotiations to replace the stadium continue Gibbs said his future is murky.
"I have plans to retire, I'm just not sure what I'll do after," he said. "I'll do something productive, but it probably won't be related to this field. It may, I don't know."