SDSU students rally against DACA decision
Dozens of San Diego State students participated in a rally against the termination of the Deferred Action for Childhood Arrivals program in front of Hepner Hall on Thursday.
The rally was hosted by the Movimiento Estudiantil Chicanx de Aztlán just two days after President Trump's announcement of the end of DACA, a program that provides temporary protection from deportation and other support to undocumented immigrants who were brought to the United States at a young age.
"As soon as the news came out, (the MECHA members) congregated," said Alan Olvera, a MECHA member and computer science senior. "From there we tried to come up with a way of presenting this to the campus and I think the best opportunity of doing so is with a rally."
The rally lasted about an hour and many students, both those who are personally affected by DACA and those who are not, were able to speak out about the president's decision to end this program. Even though not everyone at the rally will be directly affected by the end of DACA, many showed support for those affected.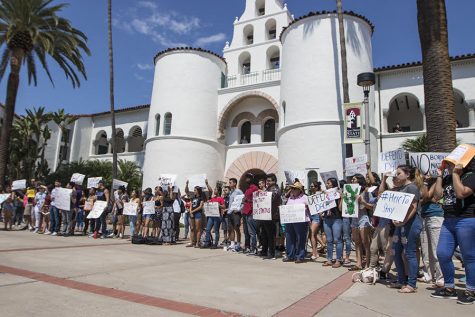 "Right now, they're targeting this DACA population, and if no one does anything about it then it's going to be another group that will be attacked," said Vivian Reyes, a comparative international studies senior. "It's just going to get worse until it targets you."
Many students at the rally displayed a message of solidarity with DACA recipients and undocumented immigrants, including Susana Monzon, an SDSU graduate with a degree in Chicana and Chicano studies.
"I feel like we need to be here to support and show that with numbers we can do something," Monzon said.
SDSU released a letter on Monday, Sept. 4, urging President Donald Trump to retain the program.
"(San Diego's) diversity is critical to preparing our students to work in San Diego's binational economy and a global workforce," the letter read. "Our students, regardless of their immigration status, are valued members of our educational community."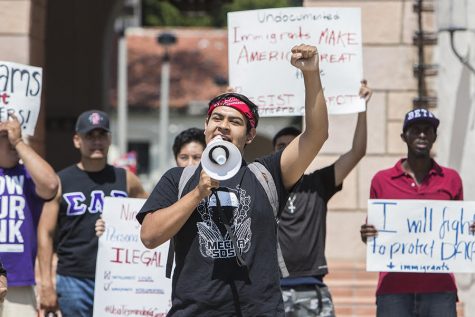 After Trump's announcement on Tuesday, Sept. 5, SDSU released another statement reassuring students of "San Diego State University's commitment to providing a safe and welcoming environment for all students, faculty and staff."
Some students were dissatisfied with the statements released by SDSU, including Olvera, who called it "more PR."
"I feel like the school can do a lot more for undocumented students across campus," he said.
According to Olvera, there will be a MECHA meeting held on Tuesday, Sept. 12 to discuss more ways to get their message about DACA out to the community at SDSU.
"There's always more we can do," he said.