College fashion has a reputation for being "lazy." Between 8 a.m. classes and late night study sessions, picking out a stylish outfit isn't always the main priority of the average tired college student.
However, with one look at musical theatre performance senior Dallas Perry, it's plain to see he is anything but average or lazy when it comes to his wardrobe.
Perry can easily be spotted on campus in his eccentric ensembles, often comprised of colorful denim jeans, jackets or both.
On this particular day, Perry walked through campus, donning a printed button up with high-waisted yellow jeans topped off with a denim jacket.
The effort that Perry puts into his outfits and personal style does not go unappreciated at San Diego State.
A friend and fellow musical theatre senior, Audrey Pennington, said Perry's eclectic style often brings about admiration from his peers.
"Rarely does a day go by without a random fellow student complimenting his look," Pennington said. "Every morning I look forward to seeing what perfectly pieced outfit he'll be rocking that day."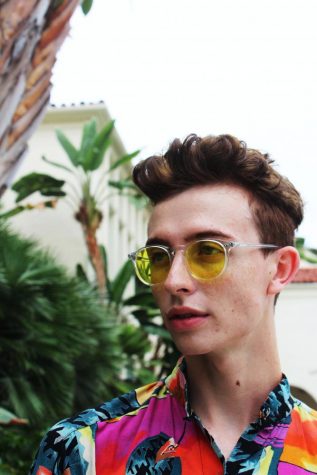 Who or what do you draw fashion inspiration from?
"I would say musical artists, such as Kimbra, Gwen Stefani and Lady Gaga. I get David Bowie a lot."
What stores do you shop at?
"I used to shop and work at American Apparel. I do a lot of shopping on a budget, so thrift stores or places that are more affordable. I do get a lot of denim at Urban Outfitters, too."
What first got you interested in fashion?
"In middle school, I first started paying attention to what I was wearing. I noticed that I didn't want to dress like the people I saw at my school and that's when I started exploring pop culture and experimenting with my style."
How would you describe your personal style?
"In my own words, I would say it's colorful, clashing, unpredictable and fun."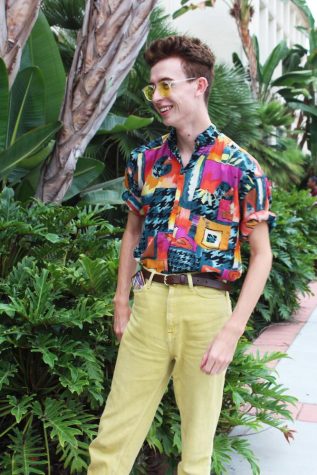 What are staple pieces in your wardrobe?
"I have a lot of denim jackets in different colors that I can throw over anything. But, my main staple would be my high-waisted denim jeans. I have them in so many different colors. Also, my hair because I dye it a lot."
What is your favorite accessory?
"Backpacks and bolo ties. I wear a lot of bolo ties and I carry around a backpack everywhere, even when I don't need anything in it."
What advice would you give to someone wanting to expand their style and is worried what others may think?
"I would say start small. You should start introducing things that are different to your wardrobe. There's always going to be someone who likes what you're wearing. If my friends don't like it, someone will and as long as I like it, that's all I really care about."