When taking a take a look around San Diego State, it probably does not look too different from that of your parent's college campus.
One of the pillars of fashion is that almost all trends are recycled after a certain period of time. With one glance at the students of SDSU, this is obvious amongst the sea of clothing trends stemming from decades past.
English junior Alyssa Cockrell strutted through the arches of Hepner Hall wearing an ensemble that screamed '90s grunge.
Cockrell's pairing of a thrifted graphic tee with a vintage denim miniskirt and fishnet stockings can be seen as a tribute to the '90s trends that have made its way back into closets of today.
"I show my individuality through the clothes I wear, plus I love feeling like a badass in my fishnets," Cockrell said.
Cockrell also rocked an ageless trend that many California college students probably have in their closet: a pair of classic Vans.
Vans became popularized in California by the heavy skate culture present and their features in movies like "Fast Times at Ridgemont High" and "Lords of Dogtown."
Sociology freshman Soleil Rico also walked through campus wearing the classic '90s miniskirt. Her plaid miniskirt is reminiscent of the cult movie "Clueless" which contributed to its popularity.
"I like how trends come back," Rico said. "It's always cool to see what decade certain items of clothing come from and how people use that to express themselves."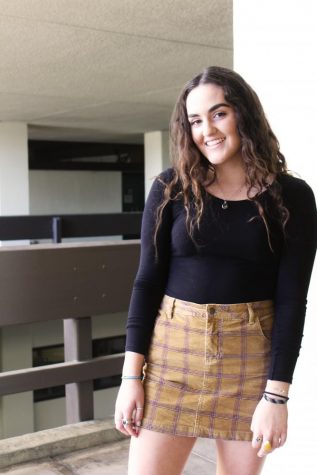 While '90s inspired mom jeans and flannels can be found in almost every clothing store today, it seems to be the '70s that are making a huge comeback this year.
From overalls to bell-bottom jeans, the '70s are back and SDSU students are grooving to the style.
Marketing junior Alexis Phayakapong wore an outfit demonstrating a major '70s trend that's returning: the jumpsuit.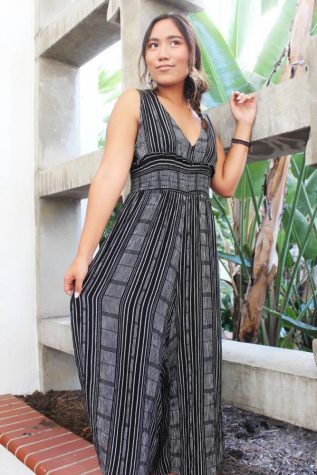 Fashionistas seem to love the jumpsuit by its ability to make one look both effortless and put together.
"I love that jumpsuits are back in because they are an easy substitute that is fun, flirty and most importantly, comfortable," Phayakapong said. "This piece shows my style and instead of picking out both a top and bottom, jumpsuits are a two in one."
Phayakapong picked up her jumpsuit on clearance at Urban Outfitters, but they can be found at almost any clothing store from Forever 21 and H&M, to Free People and Anthropologie.
Communications junior Sydney Belilty also rocked an outfit reminiscent of the '70s.
Belilty's bell-sleeve top from Urban Outfitters is a perfect example of flowy and laid-back pieces have worked their way back into the wardrobes of today.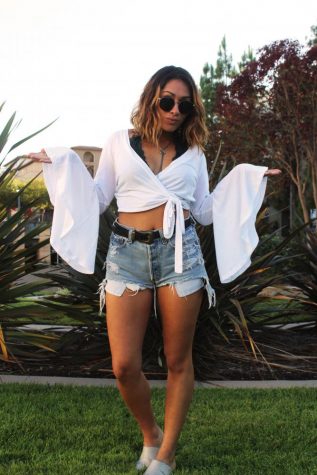 Perhaps the most popular trend in fashion today is high-waisted, vintage denim.
This timeless piece of clothing can be seen all throughout history, ranging from the '70s to the '80s to the '90s. Belilty showed off this trend in her distressed, high-waisted Levi shorts that she thrifted.
"I love mixing influences from the '70s and the '90s," Belilty said. "I have a bohemian style and also draw inspiration from Western looks, such as my belt and alligator mules. Another inspiration from the '90s I incorporate into my look are my hoop earrings because they're amazing and a great staple accessory."
While the world seems to be changing at a rapid rate, fashion is one of the things that is always reminiscent of the past.