SDSU students attend viewing for online talk by Trevor Noah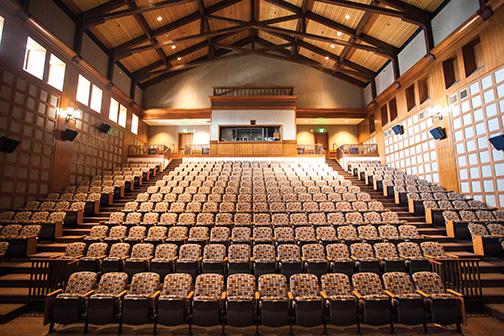 San Diego State students organized a viewing party to watch comedian and "The Daily Show" host Trevor Noah speak live via Facebook on race and identity across college campuses.
The viewing party was held on Oct. 16 at the Conrad Prebys Aztec Student Union Theatre and was organized by sociology sophomore Chase Jamison Manar-Spears, who works as The New York Times collegiate event coordinator, in partnership with Student Life and Leadership.
The viewing was hosted in an effort to open up dialogue about race and identity among SDSU students, Manar-Spears said.
"We have a responsibility to break down the other barriers we may see between certain groups on-campus and have empathetic conversations," she said.
During the talk Noah said that while people can't control the actions of the Trump presidency, they can control how they react, starting with open conversation about race and equality.
Some students think it's important to start the dialogue about race in universities, given the heightened racial tensions they said can be seen across the nation.
"I truly believe that if we want to bring a change in our country, we have to start somewhere and I think that a college campus is a great place to start," interdisciplinary studies sophomore Ayesha Kosaka said.
Recently the SDSU College Republicans invited conservative speaker Milo Yiannopoulos to campus, which university officials later cancelled.
Noah said college campuses should let conservative speakers come and share their ideas, and engage them in debates instead of protesting them.
"There's obviously a demographic of students on campus that feel they're not being heard and they're grasping to this extremist voice," business marketing sophomore Charlette Wade said. "I feel like if we were answering those voices they wouldn't reach out to those extreme voices."
Students who feel their point of view is being shunned will gravitate towards those who are like-minded, Noah said, which he called "safe space branding."
However, some students at SDSU want to see more interaction among the different clubs and organizations to broaden their points of view.
"I want to see students talk across racial lines, across political lines, across socioeconomic lines," Manar-Spears said. "How do you really feel about stuff that's going on (at SDSU)?"
Wade said that she would like to see more collaboration between the College Republicans and Democrats.
"I'm part of the College Democrats and I want to see us more making a teamwork effort with the College Republicans by reaching out to them and seeing if we can bring in analysts from both parties, and show how a healthy debate could (transpire)," Wade said.
Manar-Spears said she hopes to continue organizing events like this in the future, and is currently in the process of planning more, each with a different social topic.