A.S. update: Men's basketball ticket policy, graduation rates, Aztec mascot resolution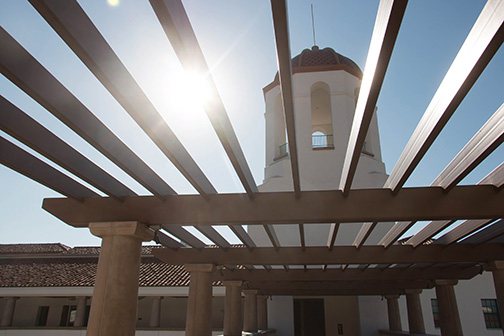 The Associated Students Campus Life Council met on Oct. 25 for its bi-weekly meeting to discuss the new men's basketball policy and upcoming events — including a meeting to discuss the Aztec mascot resolution — as well as SDSU graduation rates.
New men's basketball ticket policy
A.S. Executive Vice President Vanessa Girard said A.S. is working with San Diego State Athletics regarding student concerns about the new mobile tickets policy for men's basketball.
Girard said the new mobile ticket system uses a three-strike system, where strikes are given to students who reserve a ticket and do not show up at the game without notifying the ticket office 48 hours prior. Upon receiving a first strike, students will not be able to get priority tickets for the next home game. Upon a second strike, students can't get priority tickets for the rest of the season. If a student receives three strikes, they will not be able to get men's basketball tickets for the rest of the season.
"I can understand where there's stipulations," she said. "Students have lots of changing schedules, so this is something that I'm working on right now."
Upcoming Events
A.S. Vice President of University Affairs Chris Thomas said the University Senate will be holding an open meeting on Nov. 7 to discuss a resolution on the Aztec mascot and the possible misappropriation of Aztec culture. The meeting will be held in the Arts and Letters building in room 101. Thomas said this may be changed to accommodate more seating.
Hayden Willis, A.S. vice president of financial affairs, said there will be a ceremony announcing the results of the Aztecs Rock Hunger Campaign on Nov. 3 from 12-1 p.m. in the Conrad Prebys Aztec Student Union courtyard. SDSU President Sally Roush will be in attendance and the student organization that raised the most money for ARH will be announced.
The Student Support Commission announced there will be a meeting to discuss campus safety on Oct. 31 at 11 a.m. in the Visionary Suite of the Conrad Prebys Student Union.
Nick Wohlman, commissioner of the Community Service Commission, announced CSC will be hosting a fall community service fair on Centennial Walkway from 11 a.m. to 2 p.m. on Nov. 14. This fair will be held for registered student organizations to meet and find service opportunities.
"It's a good opportunity to use that platform and show what you're all about and really change the culture of giving back on campus," said Wohlman.
Chloe Sabio, chair of the Student Diversity Commission, said SDC will be hosting a Student Diversity Celebration on Dec. 1 from 4-7 p.m. in the Conrad Prebys Aztec Student Union. The theme of this event will be healing in response to hate speech and will celebrate the different communities at SDSU.
A.S. Vice President of External Relations Carmel Alon said A.S. will be facilitating a university-wide campaign from April 9-27, 2018, called "Rock the Vote" to encourage students to vote in the 2018 primary and general elections. Rock the Vote will specifically be encouraging students to vote on a proposition regarding the future plans for SDCCU Stadium.
"At no point are we trying to influence people to vote one way or another," she said. "We're trying simply to educate (students) on the facts get them excited to vote."
SDSU Graduation Rates
Thomas said the four-year graduation rate for SDSU is approximately 40 percent, compared to an average rate of 30 percent across the entire California State University system. In addition, SDSU's  six-year graduation rate is 75 percent, ranked second among CSUs, Thomas said.
The average CSU six-year graduation rate is 50 percent, he said.
"The graduation rate here at SDSU is pretty good," he said. "However, that 40 percent four-year rate is not good enough for me, so we're working on that."
Open A.S. Positions
Girard said A.S. will be holding interviews for open A.S. positions on Oct. 30 and hopes to fill these open positions before Thanksgiving break.