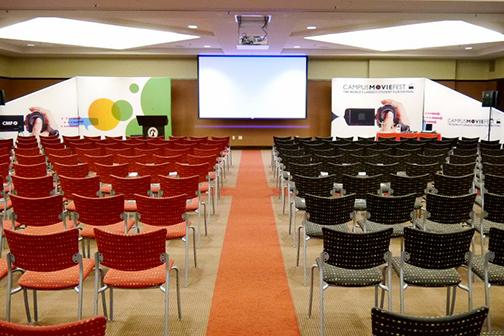 Campus Movie Fest — the self-proclaimed largest student movie festival in the world — will be returning to San Diego State for its ninth year, with filming starting Oct. 18.
The festival began in 2001 when a group of resident assistants at Emory University decided to lend film equipment to students. Since then, it has grown to more than 50 campuses throughout the United States, said Joey Engelman, the festival's promotions manager.
To compete for a chance to be included in SDSU's entry for the national festival, film crew members for the teams must be currently enrolled students at SDSU, though the cast can include non-students, Engelman said. He said crews in the past have consisted of any amount between a solo project to a dozen participants.
Through participation with CMF, students will have the opportunity to learn how to use film and editing equipment to create a five-minute film. For the seven days of filming, students will be able to use a Panasonic Lumix camera that shoots in HD and 4k, an Apple Macbook Pro stocked with stock of royalty-free songs and Adobe Creative Cloud, microphones, headphones, a portable hard drive and a tripod, Engelman said.
"Our video manager, who is an expert in all of this equipment and all this editing software, will sit down with you one-on-one to help you out because we want you to make something that you'll be proud of," Engelman said.
The top 16 films from SDSU will be screened on campus during a premiere event Oct. 26 in the Conrad Prebys Aztec Student Union Theater. After that, four films will be chosen for the national competition.
Television, film and new media production senior Chelsea Best wrote, directed and edited "Purgatory" during the 2016 festival. The film won the Jury Award, the Silver Tripod for performance and the Silver Tripod for cinematography, according to the CMF website.
Participating in CMF for the first time as a freshman in 2014, her film "Expectations" was one of the campus finalists at SDSU. "Purgatory" and a film Best produced her sophomore year, "Enamored," were screened at the Cannes Film Festival in 2017 and 2016, respectively, best said.
Best will be participating in CMF for her fourth time this fall, but she said she will be challenging herself in the process.
"I am actually trying to make two films this year, so that's the challenge for me in these next few weeks," Best said. "I've never tried comedy — I'm really frightened of comedy — and the idea of trying it scares me, so I am pushing myself out of my comfort zone."
Encouraging other student filmmakers to participate in CMF, Best said that the learning that occurs on set and the possibility of showing films at festivals like Cannes have helped her as a filmmaker.
"Campus Movie Fest has been one of the best opportunities for me and probably a lot of other students on campus," Best said. "I've now been to Cannes twice and I am sure other people think it's not possible to get to such a huge, well-known festival while you're in college for a short film that you only made in a week, that's crazy, and that has to be the biggest take away."
Erin Martinez, a TFM production junior, has participated in CMF for two years with "Even After Death" in 2016 and "Circumvention" in 2015.
Martinez wrote her first film, but she wrote, directed, produced and edited her second one. She said she is planning to work with a larger team for her junior film to streamline the process, she said.
"(With "Even After Death") I tried to do too much, so for this next time I have a bigger crew and I have an editor and a producer to help me manage," Martinez said.
This year she will be filming a thriller and has been scouting for filming locations. Time management is one of the biggest aspects to focus on in filming during CMF, she said.
"Basically you are given a week to make a film and if you don't have everything prepared before that you're going to stressing all week and you're not going to give yourself enough time to edit," Martinez said. "Scheduling everything and leaving enough time for post-production was probably the biggest takeaway."
Justin Linvil, TFM production sophomore, wrote, produced and directed "Shots Fired" during the 2016 film festival. He will be participating again this year with a science fiction-thriller film, he said.
Linvill said that the support from the CMF staff and the freedom to create any genre or type of film with the equipment provided was one of the most important lessons he learned in participating in the festival. He added that planning before the festival begins and having a staff of crewmembers is helpful in creating a successful project.
"Have your idea and start planning it before they start to give out equipment," Linvill said.
Film senior Kaela Ferrera has participated in CMF for the past three years. Her freshman year film "A Couple Feet More," written and directed by Ferrera and Hannah Marie Belisle, won the Jury Award in 2014 and was one of the top four films to go onto the national competition, she said via Facebook messenger.
Drawing inspiration from different sources each year, she said that she was inspired by her adopted cousins the first year, eating pizza the second and by beauty bloggers last year, Ferrara said.
"CMF gave me the freedom to create whatever I wanted," Ferrera said. "By doing that, as a film student I was able to think bigger as a whole."
Since she is currently abroad for a month-long scholarship program in Australia working on XVenture Family Challenge, Ferrara said she will not be able to participate this year.
For those interested in making a film at CMF, she advised them to just try to make a film, even if they don't feel confident in their idea or have the time availability. She also advised filmmakers to try to stay organized throughout the process.
"Not being organized is the biggest thing," Ferrara said. "With CMF, you learn time management — you have to, otherwise you wouldn't finish."
More information for CMF can be found at http://campusmoviefest.com and students can sign up through the website by clicking the SDSU logo.