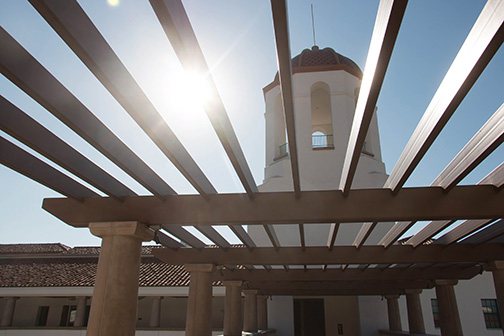 The Associated Students Campus Life Council met Nov. 8 for its bi-weekly meeting to discuss campus safety, updates on the new men's basketball ticket policy and upcoming events.
Campus Safety
A.S. Executive Vice President Vanessa Girard said A.S. is having conversations regarding student concerns about campus safety. A.S. Executive Director Christina Brown said statistics for crime have not increased in the fall 2017 semester, but acknowledged the importance of students feeling safe on campus.
"I think something to keep in mind when we're discussing campus safety is that it doesn't matter if the numbers (of crime reports) are going up or going down, it's all about perception," said Community Service Commissioner Nick Wohlman. "It's about how safe you feel on campus, not the percentage of people getting home safe at night."
Dean of Students Randy Timm said there will be a Coffee with the Chief event on Nov. 17 at 10 a.m. in the Starbucks in the Conrad Prebys Aztec Student Union. At this event, students will be able to have an open discussion with SDSU Chief of Police Josh Mays about campus safety concerns.
Men's Basketball Ticket Policy Updates
At the last Campus Life Council meeting on Oct. 25, Girard announced the new men's basketball online ticket policy, which utilizes a three-strike system for students who reserve tickets and do not show up to the game without calling to cancel 48 hours prior.
Girard said after discussion with SDSU Athletics, the new men's basketball ticket policy has been updated from requiring students to call 48 hours prior to the game to cancel their reserved seats to allowing students to cancel through email up to 24 hours before the game. She said that in cases of emergencies, students will also be allowed to call and explain why they were not able to attend the game and they will not be issued a strike.
Upcoming Events
The A.S. Community Service Commission will be hosting a service-based organization exposition on Centennial Walkway on Nov. 14 from 11 a.m. to 2 p.m. CSC has decided to hold two service-based organization expositions per year rather than one, and they will focus on SDSU student community service organizations, said Wohlman.
The A.S. Student Diversity Commission will be hosting a Student Diversity Celebration on Dec. 1 in the Conrad Prebys Aztec Student Union from 4-7 p.m, said Student Diversity Commissioner Chloe Sabio.
A.S. Community Service Commission Representative Beck Svensson said there will be a blood drive on Nov. 28 from 8 a.m. to 6 p.m. outside of Viejas Arena. Svensson said the goal for this blood drive is to collect 400 units of blood.