The San Diego Asian Film Festival returns to screen the best in an evolving world of cinema
The San Diego Asian Film Festival returns for its 18th season, bringing the color and diversity of Asian cinema to theatres across San Diego.
This year, the festival will be presenting over 150 films from 20 different countries such as China, Japan, South Korea, Vietnam, Iran and more.
The festival's long-term goal has been to provide Asian filmmakers and actors with a platform to showcase their talent, and ultimately "inspire, entertain and encourage a more compassionate society," Kent Lee, the festival's executive director, said.
Asians are a minority in today's media landscape. They are statistically underrepresented in movies and TV, where often times Asian stories are portrayed by non-Asian actors. It is even less common to find an Asian director or producer.
"We wanted to have a space as a community to talk about how (these) films can have significance, media representation, activism and identity," Brian Hu, SDAFF artistic director, said.
The problem continues to press upon major producing cities like Hollywood.
Often when an Asian actor is casted, they are made to play a stereotypical role. This includes the "odd nerd," the "typical doctor," the fetishized Asian woman and even the "uncivilized and mysterious stranger," according to a study of Asian American and Pacific Islanders in television and movies.
Asian and Asian-American film artists will showcase their every ability to be just as versatile as the rest of Hollywood and the mainstream media landscape in the films being shown at SDAFF.
Film themes range from violence, drug abuse and government unrest, to young love, reclaiming identity and tradition. Asian actors and directors share their artistic vision, creating pieces any audience can relate to.
"That's the point, to see these characters as someone you can relate to," Vince Cruz, a film director, said. "They're just characters. You don't have to point and say, 'Oh, he's Asian,' just that he's relatable."  
Cruz will be presenting his short film, "The Last Straw," in the festival this year.
Cruz said he is happy to present one of the many comedic films in the festival amongst the deep and complicated themes that several of the films hold.
As the SDAFF seeks to bring audiences of all cultures together, laughter proves to play a large role in helping the cause.
"We've been taking every opportunity just to screen (the film), our goal is just to share it. By making it accessible, we can bridge (the) gap," Cruz said.
Opening night for the festival was held Nov. 9 at the San Diego Natural History Museum. The feature film, "Oh Lucy!" directed by Atsuko Hirayanagi, kicked off the festival with the delight of comedy and love, and seriousness of self-identity and psychological issues involving substance abuse.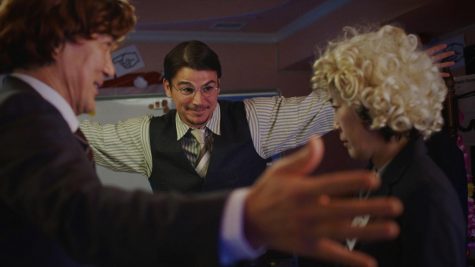 The film had a majority Asian cast and few American actors, so it was a perfect example of SDAFF's end goal—building a bridge of relatability and understanding by working together.
The movie travels in between worlds, with scenes in both Japan and Los Angeles, resulting in audience members finding themselves both exposed to new culture and identifying with their own, tying the two together.
"We are all the same, just with different cultures, way of expressing ourselves, containing ourselves and dealing with the pressures of daily life," Hirayanagi said in a commentary with festival goers after the showing. "I wasn't conscious of the audience while making the film, I just wanted to tell a story."
Hirayanagi echoes the hope of many Asian and Asian-American filmmakers across the world who wish for the opportunity to tell their stories.
"We want to focus on giving (Asian film artists) a voice. It's our responsibility to give them the extra spotlight," Hu said.
This year's festival has a selection of films that represent the true capacity Asian filmmakers have to offer, bringing to southern California the vivid color of the true meshing and blending of art and culture. With sci-fi and romance to action and documentaries, there is a feature for every type of audience.
Hu said he firmly believes that art is the catalyst of positive change.
"We have to find new ways to have new conversations about things that matter to us. Nothing is completely solved, but it's undeniable that change is happening," he said.
SDAFF runs until Nov. 18 and will have films shown in six different venues across San Diego. To see the schedule of films, their location and their descriptions, visit the SDAFF website.